Katrina death toll may be 10,000: mayor
(AP)
Updated: 2005-09-06 08:54
A week after Hurricane Katrina, engineers plugged the levee break that swamped much of the city and floodwaters began to recede, but along with the good news came the mayor's direst prediction yet: as many as 10,000 dead, AP reported.
Sheets of metal and repeated helicopter drops of 3,000-pound sandbags along the 17th Street canal leading to Lake Pontchartrain succeeded Monday in plugging a 200-foot-wide gap, and water was being pumped from the canal back into the lake. State officials and the U.S. Army Corps of Engineers say once the canal level is drawn down two feet, Pumping Station 6 can begin pumping water out of the bowl-shaped city.
Some parts of the city already showed slipping floodwaters as the repair neared completion, with the low-lying Ninth Ward dropping more than a foot. In downtown New Orleans, some streets were merely wet rather than swamped.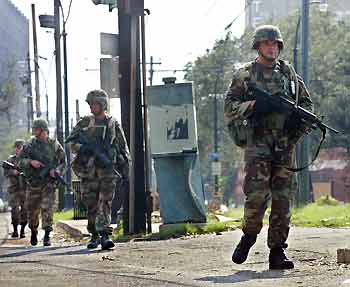 Military personnel patrol St. Charles Street in New Orleans, as evacuations of Hurricane Katrina continued on September 5, 2005. Thousands of families returned to their battered homes outside New Orleans on Monday to pick up the pieces left by Hurricane Katrina, and President George W. Bush promised support to aid recovery from a disaster in which aid efforts were bungled and 10,000 may have died. [Reuters]

"We're starting to make the kind of progress that I kind of expected earlier," New Orleans Mayor Ray Nagin said of the work on the break, which opened at the height of the hurricane and flooded 80 percent of the city up to 20 feet deep.

The news came as many of the 460,000 residents of suburban Jefferson Parish waited in a line of cars that stretched for miles to briefly see their flooded homes, and to scoop up soaked wedding pictures, baby shoes and other cherished mementoes.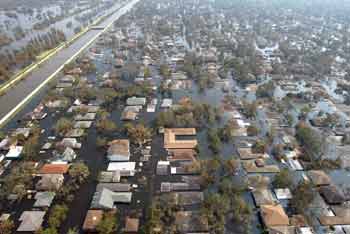 Thousands of houses in New Orleans, Louisiana remain under water one week after Hurricane Katrina went through Louisiana, Mississippi, and Alabama September 5, 2005. [Reuters]

"A lot of these people built these houses anticipating some flood water but nobody imagined this," sobbed Diane Dempsey, a 59-year-old retired Army lieutenant colonel who could get no closer than the water line a mile from her Metairie home. "I'm going to pay someone to get me back there, anything I have to do."

"I won't be getting inside today unless I get some scuba gear," added Jack Rabito, a 61-year-old bar owner who waited for a ride to visit his one-story home that had water lapping to the gutters.

Katharine Dastugue was overjoyed to find that floodwaters had gone across her lawn but stopped just inches from her doorstep. As she stood waiting for a boat to take her in, she made a list of thing she hoped to salvage before being forced to leave again Wednesday.

"If I can just get my kids' baby photos," she said. "You can't replace those."





| | |
| --- | --- |
| | |
| Rescue continues in New Orleans | |

| | |
| --- | --- |
| | |
| Egyptian presidential election campaigns conclude | |

| | |
| --- | --- |
| | |
| Bush orders more troops to secure New Orleans | |
Today's Top News
Top World News

China, EU reach 'win-win' agreement on textiles




"East Turkistan" main terrorist threat




Gays live a difficult life under social bias




Katrina death toll may be 10,000: mayor




At least 149 killed in Indonesian air crash




Blair: EU-China ties 'immensely important'