At least 149 killed in Indonesian air crash
(China Daily/Agencies)
Updated: 2005-09-06 06:17
MEDAN, Indonesia: A domestic jetliner slammed into a crowded neighbourhood in Indonesia's third largest city yesterday, bursting into flames and killing at least 149 people, many of whom were on the ground. Up to 15 passengers survived the inferno, including a 18-month-old boy, officials said.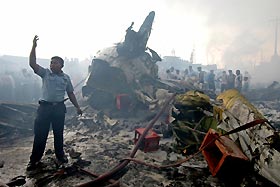 Rescue workers and residents surround the wreckage of an Indonesian Boeing 737-200 operated by Mandala Airlines which crashed just after takeoff yesterday. [Reuters]

Two Chinese business people from Putian, Fujian Province, were among the dead.

The Boeing 737-200 crashed seconds after taking off from Medan airport in north Sumatra.

The Mandala Airlines plane was heading to Jakarta in overcast weather when it skidded onto a busy road and into a row of houses just 500 metres from the airport. State news agency Antara reported that the craft hit electrical wires, but it was unclear whether this was the cause of the accident.

Firefighters struggled to put out the blaze, which sent thick black smoke high into the air, but were assisted by a midmorning rain shower. Houses were engulfed in flames and at least 10 cars were damaged.

"The plane was shaking violently and fell to earth," said Ridho Timor, 27, who was standing outside his home in view of the crash. "When I got there, one person was on fire as he ran from the plane."

The plane was carrying 117 passengers and crew, said Alex Widjojo, a spokesman for the airline. Widjojo said 15 passengers survived.

More than 40 people on the ground were also killed, said search and rescue official Zainul Tahar, and dozens were being treated in two city hospitals with severe burns.

Rohadi Sitepu, who escaped death by crawling through a hole in the fuselage, said all the survivors were seated at the back of the plane.

"The plane had already taken off but suddenly it started shaking and banked steeply to the left and then bang, there was fire everywhere," Sitepu told Metro TV station from his hospital bed. "The whole thing only took a matter of seconds."

Hundreds of policemen, paramedics and residents rushed to evacuate victims.




| | |
| --- | --- |
| | |
| Rescue continues in New Orleans | |

| | |
| --- | --- |
| | |
| Egyptian presidential election campaigns conclude | |

| | |
| --- | --- |
| | |
| Bush orders more troops to secure New Orleans | |
Today's Top News
Top World News

'Win-win' agreement reached on textiles




"East Turkistan" the main terrorist threat




At least 149 killed in Indonesian air crash




Blair: EU-China ties 'immensely important'




Mainland airspace open to Taiwan airlines




Typhoon Talim death toll rises to 97