Blair: EU-China ties 'immensely important'
(AFP)
Updated: 2005-09-06 07:02
BEIJING - British Prime Minister Tony Blair said that strong relations between the EU and China were "immensely important" as the two sides held an annual summit boosted by the settlement of a textiles row. AFP reported

Blair was attending the one-day meeting as part of Britain's turn at the rotating presidency of the 25-nation European Union and said it was beneficial to both sides to help the relationship grow.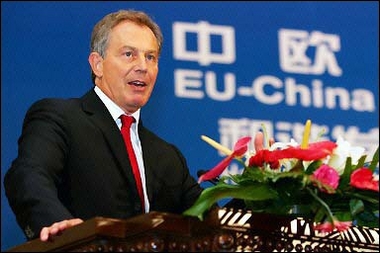 Britain's Prime Minister Tony Blair speaks at the EU-China summit at the Great Hall of the People in Beijing. [AFP]

"The strategic partnership between China and the European Union is of immense importance, not just in terms of trade and the economy, but also in terms of our cooperation in all the major political issues the world faces," he said in a meeting with Chinese President Hu Jintao on Monday.

Blair's spokesman said that on top of the usual trade-focused agenda, global political and security issues had been added in the wake of the terrorist bombings in London which left 56 people dead in July.

Human rights issues were also discussed.

Despite disagreements on issues including Europe's embargo on arms sales to China and its refusal to grant Beijing market economy status, Hu agreed that building understanding was crucial.

"Regular meetings between China and the European Union are good for enhancing our mutual understanding and are also good for mutual beneficial cooperation and moving forward our comprehensive strategic partnership," he told Blair.





| | |
| --- | --- |
| | |
| Relief materials from China heading to the US | |

| | |
| --- | --- |
| | |
| Gas burning kills 17 miners in Shanxi | |

| | |
| --- | --- |
| | |
| Blair tries football skills among Chinese kids | |
Today's Top News
Top China News

Growing energy moves by China make U.S. angry




Official: Shenzhou VI to be launched soon




New Orleans after Katrina: Back to Stone Age




Blair senses sea change in China visit




Iraqi Leader: Saddam confessed to crimes




Airbus, banking deals cement China-EU ties