Gays live a difficult life under social bias
By Raymond Zhou (China Daily)
Updated: 2005-09-06 06:25
Gu Du was the victim of extortion. He was blackmailed, as well as being chastised by his employer and almost fired.
The reason: Gu is gay.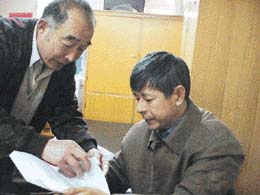 A Qingdao-based sexologist Zhang Beichuan (R) talks with his mentor Qin Shide last May. [baidu]


Gu worked in machine design for a Chengdu company. His father used to be head of this State-owned enterprise and his mother works in the trade union of the same company. He shared a company dormitory room with a few co-workers and surfed the Internet on his own computer after work.

One night about six months ago, he was spotted browsing a gay website by his roommate co-worker. Confronted by him, he initially denied he was gay. But his roommate knew better.

The roommate offered him a choice: Gu could pay him 5,000 yuan (US$616) in hush money or he would tell the boss.

Gu was agitated, but thought the man was bluffing. A few days later, he was called to see the head of the company.

"I heard you have been engaged in hooliganism," said the boss, using a term that covers conduct as severe as rape and as light as saying four-letter words, or "shua liu mang" in Chinese.

Gu denied doing anything wrong, but upon interrogation he admitted he was a homosexual and had been leafing through a few gay-themed websites in his spare time. He said he did not look at porno sites, however.

But his boss was not interested in such technicalities. He threatened to slap him with some kind of penalty.





| | |
| --- | --- |
| | |
| Olympics themed jetliner ascends into the sky | |

| | |
| --- | --- |
| | |
| Best and worst dressed 2005 | |

| | |
| --- | --- |
| | |
| S. Korean TV epic hits mainland | |
Today's Top News
Top Life News

Siberian oil pipeline to go to China first: Putin




Six-party talks to resume September 13




President Hu due in Canada for visit




Vice-premier: Economy to grow 9% this year




China, US smash Viagra counterfeiting case




US$3.7b loan to help Taiwan-funded firms