EU, China reach agreement on textile imports
(Reuters)
Updated: 2005-09-05 16:54
China and the European Union reached an agreement on Monday to unblock millions of Chinese garments that have piled up at EU borders because they exceed import quotas, an EU official close to the talks said, the Reuters reported.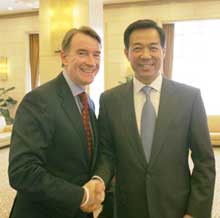 Chinese Commerce Minister Bo Xilai (R) shakes hands with EU trade commissioner Peter Mandelson in Beijing before holding talks on textile dispute September 4, 2005. [mofcom.gov.cn]

But Chinese Commerce Minister Bo Xilai cautioned that the two sides had not yet put pen to paper.

Asked by reporters if there had been a deal, Bo said: "Nearly ... We haven't signed a final agreement."

The search for a solution to release the mountain of bras, sweaters and other textiles has split the 25-member EU, embarrassed the EU's executive Commission and cast a shadow over a China-EU summit taking place in Beijing.

"After long but constructive discussions, the EU and China have succeeded in reaching an agreement to resolve the textile dispute," the EU official close to the talks told Reuters.

Bo and European Trade Commissioner Peter Mandelson met on Monday morning to put the finishing touches to the deal after meeting late into the evening on Sunday.

Bo said he was not sure an agreement would be signed on Monday but, on the whole, he did not anticipate further problems.

"We've solved most of the issues," he said.

The EU official's comments strongly suggest Mandelson is confident of winning approval for the deal from the EU's 25 member states, on whose behalf he negotiates. Bo's caution suggests Mandelson might still be waiting for the final go-ahead.

At stake in the marathon negotiations was how the two sides would revise a June 10 pact that allowed growth of between 8 and 12.5 percent a year in 10 categories of Chinese textiles exports to the EU during the period 2005-2007.





| | |
| --- | --- |
| | |
| Relief materials from China heading to the US | |

| | |
| --- | --- |
| | |
| Gas burning kills 17 miners in Shanxi | |

| | |
| --- | --- |
| | |
| Blair tries football skills among Chinese kids | |
Today's Top News
Top China News

Growing energy moves by China make U.S. angry




Official: Shenzhou VI to be launched soon




New Orleans after Katrina: Back to Stone Age




Blair senses sea change in China visit




Iraqi Leader: Saddam confessed to crimes




Airbus, banking deals cement China-EU ties