Katrina leaves many of the poor in free fall
(Knight Ridder Newspapers)
Updated: 2005-09-05 13:46
Before Hurricane Katrina, Ruby Martin lived paycheck to paycheck, raising two daughters and two grandchildren as a $19,000-a-year nursing assistant.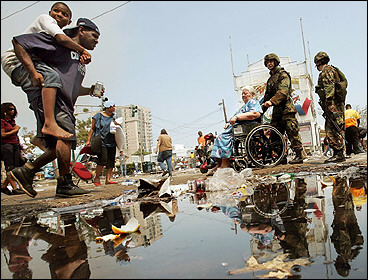 US Army National Guard soldiers assist stranded victims of Hurricane Katrina outside the New Orleans Convention Center. Thousands of troops poured into the city to help with security and delivery of supplies in the wake of Hurricane Katrina. [AFP]


Now, like thousands of other Gulf Coast residents who were already teetering on poverty's edge, the 39-year-old grandmother faces far more dire hardships.

"I think I have 30 cents to my name," said Martin, as she sat by the side of the only road leading out of New Orleans and her grandkids bounced on an abandoned air mattress. "We don't have nothing. And we don't have nowhere to go."

Many of Katrina's victims share her despair. In New Orleans, 125,000 people lived below the poverty line before Katrina. Mississippi is one of the nation's poorest states. Katrina's 145-mph winds devastated rich and poor alike, but left many of the poor in free fall.

"This just pulls the rug out from them," said James Horney, senior fellow at Washington's Center on Budget and Policy Priorities, which conducts research on low- and moderate-income families.

Many evacuees of New Orleans, where the poverty rate was double the 12.4 percent national average, are devastated.

"I've never been homeless in my life," said Albert Sumlin, 45, eyes welling up as he and his family waited outside the Superdome to board a bus to Texas. His job as a cook at Bubba Gump Shrimp Co. was everything - a salary and health insurance and security for his family.

On Thursday, Sumlin said he'd tried to explain to his young son that the family had no home to return to.

"My son started crying," he said. "How's that make me feel?"

The Rev. Kenneth Maurice Davis, the pastor of the Tabernacle Baptist Church in D'Iberville, just north of Biloxi, Miss., saw the same suffering.

"You are talking about a world of people who are already impoverished. You are talking about a system or an infrastructure that is already antiquated," he said "A disaster like this takes from people who already have nothing.

"Hopefully, they are survivors."

Lucinda Harris and eight family members were reduced to living out of their mini-van.

Their little house on Reynoir Street in Biloxi, rented two weeks ago for $625 a month, nearly washed away. A front-yard parking space and the van are all the home they have.

On Thursday, they'd parked their van in the Food Tiger grocery store lot, where bags of ice were being distributed.

"I've been sitting here for two days because I don't have anywhere else to go. The water flooded my house and most everything floated away, but I have no gas or money to leave. So I am just sitting here," said Harris, 24, an unemployed mother of four.

She planned to use her last $1.87, all coins, to buy diapers for her baby boy, Rashad.

Caring for their families will be especially hard for those of the newly poor who are without health insurance or Medicaid coverage. Many also have no cars - not a problem in New Orleans but a big one elsewhere - and those who do face punishing gasoline prices. Childcare will be a big issue, too. Single mothers headed 65 percent of New Orleans families living below the poverty line.

"If you're a single mother and poor, and you have a very low education and have trouble finding a job, getting back on your feet is harder than it is for married couples or people with more resources," said Sheila Zedlewski, the director of the income and benefits policy center at the Urban Institute, a non-partisan think tank in Washington. "They're going to need some significant support for quite a while to make a new life for themselves."

Some black leaders suspect that rescue efforts went more slowly because many victims are black.

"We cannot allow it to be said that the difference between those who lived and those who died in this great storm and flood of 2005 was nothing more than poverty, age or skin color," Rep. Elijah Cummings (news, bio, voting record), D-Md., said last week.

Non-English speakers may also face special difficulties.

At St. Andrews Apartments in Biloxi, Louisa Delfin, a Mexican immigrant who is three months pregnant, told how she survived on oranges for four days before help arrived.

Finally, she found someone who spoke both English and Spanish and had them make a poster with the word I-C-E.

A neighbor stood at the railroad tracks flashing the sign until well after a 6 p.m. curfew on Thursday. Someone finally saw the sign, and called police, who got word to relief agencies.

What comes next?

"I have nothing here," said Delfin. "I am going to Kansas."





| | |
| --- | --- |
| | |
| Lyon Mode City fashion show | |

| | |
| --- | --- |
| | |
| 5th Chinese Music Awards unveiled | |

| | |
| --- | --- |
| | |
| Zhang Ziyi shed buckets of tears for Hollywood fame | |
Today's Top News
Top Life News

China, EU striving for agreement on textiles




60 killed in Indonesia plane crash




New Orleans left to the dead and dying




Typhoon Talim inflicts deadly damage




China to sign Airbus deal during Blair visit




President Hu's visit to the US postponed