Popularly-voted 'Super Girls' sizzle China so
By Jim Yardley (The New York Times)
Updated: 2005-09-05 09:45
China's runaway summer hit, "Super Girl," ended last weekend with a television viewership that eclipsed the combined populations of the United States and Canada.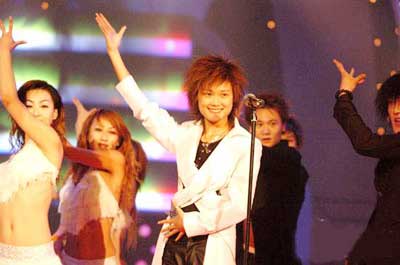 Li Yuchun sings and dances at the 2005 Super Girl contest finals in Changsha, Hunan Province August 27, 2005. Li got more than 3.52 million votes in support of her. Zhou Bichang, the second place winner, and Zhang Liangying, the third place winner, received more than 3.27 million and 1.35 million votes respectively. [Xinhua]
State news media reported that more than 400 million people had watched the finale of the show, an "American Idol" knockoff, and saw a frizzy-haired music student from Sichuan Province selected as the winner.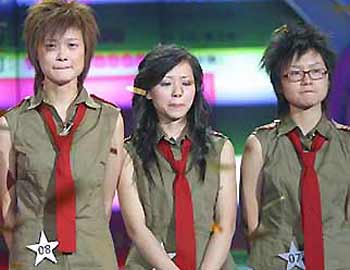 The top three super girls (L to R), Li Yuchun, Zhang Liangying and Zhou Bichang, stand after a night competition on August 19, 2005. [sina.com]


Li Yuchun was popularly elected. Fans voted via text message, and the three finalists drew more than 8 million votes, a figure that would have been far higher except that people had to pay to vote.

The enormous public fascination with the independently produced show has stimulated a nationwide online discussion on issues ranging from standards of beauty to whether Li is a lesbian.

Fans formed booster clubs and canvassed malls to court prospective voters. There were even accusations of voter fraud, as rabid fans circumvented the rule limiting each person to 15 votes.

"It's like a gigantic game that has swept so many people into a euphoria of voting, which is a testament to a society opening up," a social commentator, Zhu Dake, told state media.

The show is significant not only because people were allowed to vote for the winner but also because of the winner they voted for. Li, 21, is almost the antithesis of the assembly-line beauties regularly offered up on CCTV.

Tall and gangly, with a thatch of frizzy hair, the adjectives most used to describe her in the media were "boyish" or "androgynous." Some commentators speculated that her fan base consisted of young girls who considered her to be their "boyfriend" because of her appearance.





| | |
| --- | --- |
| | |
| Zhang Ziyi shed buckets of tears for Hollywood fame | |

| | |
| --- | --- |
| | |
| The panda couple in Thailand | |

| | |
| --- | --- |
| | |
| Paris Hilton promotes her perfume | |
Today's Top News
Top Life News

China, EU striving for agreement on textiles




New Orleans left to the dead and dying




Typhoon Talim inflicts deadly damage




China to sign Airbus deal during Blair visit




President Hu's visit to the US postponed




Koizumi remains firm on shrine visit