Katrina aid pours in from around the world
(AP)
Updated: 2005-09-05 08:47
Donations to Hurricane Katrina relief poured in from around the world Sunday, with Kuwait offering $500 million and other Mideast countries offering aid and condolences despite widespread opposition to U.S. policies in the area, AP reported.
But the al-Qaida in Iraq group, led by the Jordanian Abu Musab al-Zarqawi, called the devastation across the U.S. Gulf Coast region God's retribution on America.
The European Union and NATO also stepped up to provide aid following rare requests for help from Washington, while the 22-member Arab League urged countries across the Middle East to "extend aid to the United States to face the exceptional humane circumstances."
Spain, Belgium, Britain, Germany and Italy announced they had started or were about to send aid and experts to the U.S. to help with the logistical operation of getting help to hurricane survivors.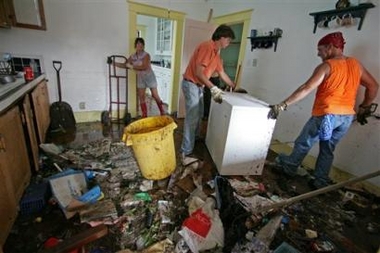 Patricia Runnels, left watches as Monty Ladner and Keith Wilkes, right remove a freezer from her home in Gulfport, Miss., on Sunday, Sept. 4, 2005. Runnels was attempting to clear as much of the debris caused by Hurricane Katrina in an attempt to save her floors. [AP]

Britain's Ministry of Defense said Sunday the government would send 500,000 ration packs.

Germany and Italy sent flights of supplies, including food rations, bed supplies, inflatable dinghies and water purifiers.

The $500 million offer by Kuwait ! which owes its 1991 liberation from seven months of occupation by Saddam Hussein's Iraqi army to a U.S.-led coalition ! is the largest to date, surpassing the $100 million pledged by Qatar, another U.S. ally in the Mideast.

"It's our duty as Kuwaitis to stand by our friends to lighten the humanitarian misery and as a pay back for the many situations during which Washington helped us through," Kuwait's energy minister, Sheik Ahmed Fahd Al Ahmed Al Sabah, said in a statement.

Kuwait's offer includes $400 million in oil products and $100 million in humanitarian relief, Al Sabah's spokesman told The Associated Press.

Another close U.S. ally, the United Arab Emirates, is sending tents, clothing, food and other aid.

The United States enjoys close relations with most Gulf states, particularly Kuwait, which was a launch pad for the 2003 invasion of Iraq that toppled Saddam, and Qatar, a base for the U.S. military in the war's initial stages.

But al-Zarqawi's group released an Internet statement saying "God's great wrath has hit the head of the oppressors where their dead are in thousands and their losses in billions."

Bitter U.S. foes Iran and North Korea ! which Washington pressured over their respective nuclear programs ! offered to help rescue efforts, and Syria ! another longtime opponent ! was among numerous Middle Eastern states offering condolences.

And Arab League chief Amr Moussa said the Arab world should support the United States, which "always expresses solidarity with nations that face natural catastrophes and extends most of the aid they receive."

The United Nations said Sunday the U.S. had accepted its offer of U.N. assistance and expertise.

"A small U.N. coordination team is in Washington now consulting with government officials on how best the U.N. can complement the United States' own emergency efforts," said a statement from the U.N. spokesman.

The Paris-based International Energy Agency has also said its 26-member nations would release the equivalent of 2 million barrels of oil per day from strategic reserves.




| | |
| --- | --- |
| | |
| Bush orders more troops to secure New Orleans | |

| | |
| --- | --- |
| | |
| Hurricane Katrina batters US | |

| | |
| --- | --- |
| | |
| Pakistani, Indian officials meet for peace | |
Today's Top News
Top World News

China, EU striving for agreement on textiles




New Orleans begins counting its dead




Typhoon Talim inflicts deadly damage




China to sign Airbus deal during Blair visit




President Hu's visit to the US postponed




Opinion: US should weigh China ties