Saddam's defense team balks at Oct trial
(AP)
Updated: 2005-09-05 08:41
Saddam Hussein's defense team complained Sunday it will not have enough time to prepare for his trial as the government officially set Oct. 19 for the start of proceedings that could end with the execution of Iraq's former president, AP reported.
Meanwhile, U.S. troops killed seven insurgents Sunday in Tal Afar, including six who fired at the Americans from a mosque, the U.S. command said. Iraqi officers said well-armed insurgents controlled the center of Tal Afar and their ranks included fighters from Yemen, Syria, Saudi Arabia and other Arab countries.
A legal adviser to Saddam's family, Abdel-Haq Alani, said that starting the trial next month would "undercut the defense capability to review the case."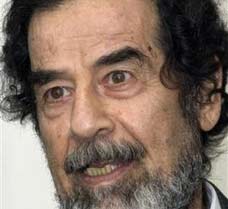 Former Iraqi dictator Saddam Hussein is seen in this photo released by the Iraqi Special Tribunal, showing Hussein having a meeting with Judge Munir Haddad at an initial appearance for crimes against Shiite Faili Kurds, Thursday, July 21, 2005, in Baghdad, Iraq.[AP/file]

He was reacting to an announcement by the chief government spokesman, Laith Kubba, that Saddam and seven former henchmen would be tried on Oct. 19 in the 1982 massacre of 143 Shiite Muslims in Dujail, a town north of Baghdad.

Kubba's announcement confirmed unofficial reports that the first trial of Saddam and key lieutenants would begin just days after the Oct. 15 national referendum on Iraq's constitution.

Trying Saddam so soon after the referendum could further enflame sectarian tensions among Saddam's fellow Sunni Arabs, many of whom oppose the draft charter.

If convicted, Saddam and the others could receive the death penalty.

Alani said the defense had received no official notice about the date, but complained that if Oct. 19 was the start, it would not leave enough time to prepare.

"How can one review thousands and thousands of pages in just a matter of a few days?" he told The Associated Press by telephone from London. "This court has been deliberating with the evidence for the past year, but it has been keeping it away from the defense, which is not fair."

Saddam's Iraqi lawyer had no immediate reaction.

The co-defendants include Barazan Ibrahim, the ousted regime's intelligence chief and Saddam's half brother; and former Vice President Taha Yassin Ramadan. The others are lesser figures in the Saddam-era intelligence services or ruling Baath Party.

Rather than lump all charges against Saddam into one mammoth, time-consuming trial, Iraqi authorities have opted for a series of cases focusing on specific atrocities.

Iraq's Shiite- and Kurdish-dominated government is convinced that speedy trials for Saddam will expose crimes of his regime and undercut support for him within the Sunni-dominated insurgency.

"This court will conduct itself according to international standards," Kubba said. "We hope to rebuild national unity and rid ourselves of a dark page in Iraq's past and move on."

Pretrial investigations are under way into about a dozen cases, including the 1988 gassing of up to 5,000 Kurds in Halabja and the bloody 1991 suppression of a Shiite uprising in the south after a U.S.-led coalition drove the Iraqi army out of Kuwait.

The Iraqi tribunal announced July 17 that it had filed charges against Saddam in the Dujail case. Iraqi law requires the court to announce the start date for a trial within 45 days of the filing of charges.

Under Iraqi law, the defendants will stand before the judge while he reads the charges against them. Defense lawyers will be given the opportunity to respond and ask for a postponement.

If the judge believes a delay is justified, he can grant an extension, usually 15 days. Further extensions can be requested.

The former U.S. governor of Iraq, L. Paul Bremer, abolished the death penalty soon after the 2003 U.S.-led invasion. But the Iraqis reinstated capital punishment after sovereignty was reinstated a year later so they would have the option of executing Saddam if he was convicted of crimes committed during his nearly three decade regime.

Shiites and Kurds suffered the most under Saddam's regime because of their suspected ties to Iran during a 1980-88 war. Both groups also rose up against Saddam in 1991. The Shiite uprising was crushed after the United States refused to intervene on their behalf, although it did provide protection to Kurds.

In a statement, the U.S. command said soldiers from the 3rd Armored Cavalry Regiment, based at Fort Carson, Colo., killed seven insurgents "after receiving small arms fire during three separate incidents in Tal Afar." There were no U.S. or Iraqi government casualties, the military said.




| | |
| --- | --- |
| | |
| Bush orders more troops to secure New Orleans | |

| | |
| --- | --- |
| | |
| Hurricane Katrina batters US | |

| | |
| --- | --- |
| | |
| Pakistani, Indian officials meet for peace | |
Today's Top News
Top World News

China, EU striving for agreement on textiles




New Orleans begins counting its dead




Typhoon Talim inflicts deadly damage




China to sign Airbus deal during Blair visit




President Hu's visit to the US postponed




Opinion: US should weigh China ties