China, EU striving for agreement on textiles
By Jiang Wei and Xu Binglan (China Daily)
Updated: 2005-09-05 05:59
China and the European Union (EU) early this morning were still discussing an agreement to solve the problem concerning millions of items of China-made textile products being blocked in the ports of EU countries.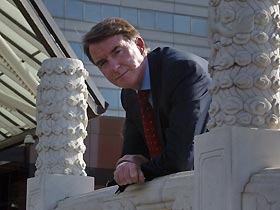 European trade chief Peter Mandelson looks on after a news conference outside a hotel in Beijing September 4, 2005. Mandelson said on Sunday he hoped a deal can be struck to unblock millions of Chinese garments stuck in EU ports before a bilateral summit on Monday. [Reuters]

Minister of Commerce Bo Xilai and EU Trade Commissioner Peter Mandelson were still talking at the time of press.

Mandelson, who arrived in Beijing on Saturday for a summit of Chinese and EU leaders scheduled for today, began the talks with Bo at about 10 am yesterday.

Before leaving Brussels for Beijing, Mandelson called on EU member states to take quick actions to unblock stockpiled Chinese clothes for the interest of Europe.

The impasse between China and the EU over the blocked textile products has left stores in EU countries short of seasonal clothes to sell.

Some 80 million items of Chinese clothing have been prevented from entering the EU market because quotas stipulated in an earlier bilateral agreement were already used up.

An accord is expected to clear the way for those fabrics and garments to reach EU consumers.

China and the EU signed a deal in June to curb the growth of China's textile exports to EU before 2008.

But Nordic nations and Germany, under pressure of supply shortages, have demanded swift release of the impounded goods.

However, countries with big textile industries such as France and Italy took a hard line in implementing quotas stipulated for the two-and-half-year period.