New Orleans begins counting its dead
(Reuters)
Updated: 2005-09-05 06:56
NEW ORLEANS - New Orleans turned to the horrific task of collecting its dead on Sunday with rescue teams scouring the toxic waters flooding streets and homes to find survivors and recover thousands of bloated corpses. Reuters reported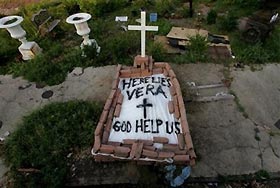 A makeshift tomb at a New Orleans street corner conceals a body that had been lying on the sidewalk for days in the wake of Hurricane Katrina on Sunday, Sept. 4, 2005. [AP]

A full six days after Hurricane Katrina ripped up the U.S. Gulf Coast and sent flood waters pouring into New Orleans, no one knows how many people were killed, but government officials say the number is surely in the thousands.

"When we remove the water from New Orleans, we're going to uncover people who died hiding in houses, who got caught by the flood. People whose remains will be found in the street," U.S. Homeland Security Secretary Michael Chertoff said. "It is going to be about as ugly a scene as you can imagine."

Under fire for its slow response to the flooding, the Bush administration tried to save face on Sunday by sending top officials down to the disaster zone and pledging to do whatever it takes to clean up New Orleans and help its refugees.

Battered and sickened survivors made no attempt to disguise their anger: "We have been abandoned by our own country," Aaron Broussard, president of Jefferson Parish just south of New Orleans, told NBC's Meet the Press.

"For God sakes, shut up and send somebody," a tearful and anguished Broussard said of promises not kept by Washington, adding that "bureaucracy has committed murder" in New Orleans.

After a nightmare confluence of natural disaster and political ineptitude that al Qaeda-linked Web sites called evidence of the "wrath of God" striking America, National Guard troops and U.S. marshals patrolled the city, stricken in the days after the hurricane by anarchic violence and looting.

Coast Guard helicopters hovered over devastated neighborhoods and continued to pluck survivors from roofs. Some brave residents joined the rescue efforts and spoke of horrors in the deep and muddy waters.

Alfred Thomas, a 43-year-old resident of the Hollygrove neighborhood, has used his small flatboat to shuttle food and water in and out since the storm hit.





| | |
| --- | --- |
| | |
| Bush orders more troops to secure New Orleans | |

| | |
| --- | --- |
| | |
| Hurricane Katrina batters US | |

| | |
| --- | --- |
| | |
| Pakistani, Indian officials meet for peace | |
Today's Top News
Top World News

China, EU striving for agreement on textiles




New Orleans begins counting its dead




Typhoon Talim inflicts deadly damage




China to sign Airbus deal during Blair visit




President Hu's visit to the US postponed




Opinion: US should weigh China ties