Saddam to go on trial Oct. 19, faces hanging
(Reuters)
Updated: 2005-09-05 06:56
BAGHDAD - Ousted Iraqi leader Saddam Hussein will go on trial on a charge of mass killing on October 19, Iraq's government spokesman confirmed on Sunday, raising the possibility that he could soon be hanged. Reuters reported.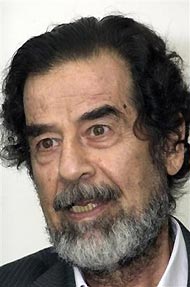 Former Iraqi dictator Saddam Hussein is seen in this photo released by the Iraqi Special Tribunal, showing Hussein having a meeting with Judge Munir Haddad at an initial appearance for crimes against Shiite Faili Kurds, Thursday, July 21, 2005, in Baghdad, Iraq. [Reuters]

"There is a date set for October 19," Laith Kubba told a news conference, adding that several of Saddam's associates, including one of his half-brothers, would face trial with him.

"They will be tried for the execution of 143 citizens."

Kubba was referring to reprisals for an assassination attempt on Saddam in the Shi'ite Muslim village of Dujail in 1982, after which over 140 men from the village were killed.

Iraq's Shi'ite-led government has reintroduced the death penalty after it was suspended following the U.S. invasion in March 2003. On Thursday, three convicted criminals were hanged, the first since the suspension was lifted.

Saddam faces execution if found guilty.

Stressing that he was voicing a personal opinion, Kubba said that if Saddam were convicted for the Dujail killings, trials for other crimes might be shelved and the sentence carried out quickly. He gave no estimate of the length of the trial.

The trial will follow swiftly after a referendum on a new constitution for the post-Saddam era, due by October 15. The draft text is already highly divisive between Iraq's three main communities, Sunni and Shi'ite Arabs and Kurds.

Saddam is a Sunni, the once politically dominant group which makes up around 20 percent of Iraq's population.





| | |
| --- | --- |
| | |
| Bush orders more troops to secure New Orleans | |

| | |
| --- | --- |
| | |
| Hurricane Katrina batters US | |

| | |
| --- | --- |
| | |
| Pakistani, Indian officials meet for peace | |
Today's Top News
Top World News

China, EU striving for agreement on textiles




New Orleans begins counting its dead




Typhoon Talim inflicts deadly damage




China to sign Airbus deal during Blair visit




President Hu's visit to the US postponed




Opinion: US should weigh China ties