Typhoon Talim inflicts deadly damage
By Guo Nei (China Daily)
Updated: 2005-09-05 06:06
The death toll from Typhoon Talim could be as high as 73.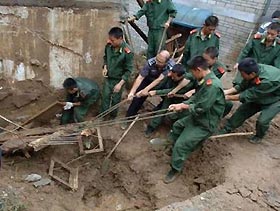 Chinese soldiers remove wreckage from a collapsed farmhouse in Yuexi county, in east China's Anhui province, September 4, 2005. [Reuters]

According to Xinhua News Agency reports, in addition to the deaths the direct economic losses from torrential rains, flooding and landslides are 7.8 billion yuan (US$960 million), mainly in East China's Fujian, Zhejiang, Anhui and Jiangxi provinces.

In the worst-hit Anhui Province, at least 53 were killed as heavy rains began falling on Thursday.

Rainstorms and heavy flows of mud and rock also destroyed 17,200 residential houses, damaged 61,100 houses and affected more than 130,000 hectares of cropland in the province, according to an official with the Anhui Provincial Disaster Relief Office. The province evacuated 168,100 people.

The provincial government has allocated 8 million yuan (US$986,440) in relief funds for affected areas. The provincial civil affairs bureau distributed 400 tents and other relief materials to affected people.

In the two worst-hit counties Yuexi and Jinzhai, close to the Dabie Mountain area, about 400,000 people suffered from the disasters and 46,000 hectares of cropland were affected.

In Yuexi County, where a landslide occurred, more than 10,000 homes were damaged and transport were cut off.

The Ministry of Civil Affairs sent two work teams to carry out disaster relief work in affected provinces after the disaster happened.

In Wenzhou, Zhejiang Province, the typhoon killed 15, China News Agency reported.





| | |
| --- | --- |
| | |
| Relief materials from China heading to the US | |

| | |
| --- | --- |
| | |
| Gas burning kills 17 miners in Shanxi | |

| | |
| --- | --- |
| | |
| Blair tries football skills among Chinese kids | |
Today's Top News
Top China News

Growing energy moves by China make U.S. angry




Official: Shenzhou VI to be launched soon




New Orleans after Katrina: Back to Stone Age




Blair senses sea change in China visit




Iraqi Leader: Saddam confessed to crimes




Airbus, banking deals cement China-EU ties