N. Korea ready to restart nuke talks: US
(AP)
Updated: 2005-09-04 09:49
BEIJING - Two U.S. lawmakers who visited North Korea said Saturday that Pyongyang appears ready to return to disarmament talks as promised the week of Sept. 12, but still wants a nuclear reactor ¡ª a key sticking point. AP reported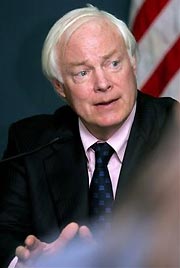 U.S. Congressman James Leach speaks during a press conference after his return from North Korea, at the US Embassy in Beijing, China Saturday Sept. 3, 2005. [AP]

North Korean officials did not name a date, "but there was strong confidence that this would go forth on a timely basis, as has been indicated," said US Republican James Leach, chairman of the House Subcommittee on Asia and the Pacific. He traveled to the North this week with U.S. Rep. Tom Lantos.

North Korea said earlier it would return to six-nation talks the week of Sept. 12 following a postponement that it blamed on U.S.-South Korean military exercises and Washington's appointment of a human rights envoy to monitor the North. The talks also include South Korea, host China, Japan and Russia.

Leach said North Korean officials affirmed their desire for a light-water nuclear reactor as part of a peaceful nuclear program, an issue that deadlocked the last session of talks in August.

The North says it should be allowed to operate a peaceful nuclear program for power generation. But Washington has expressed skepticism that the North can be trusted with nuclear technology.

"Clearly the North Korean desire is for a light-water reactor, and the North Korean desire is to retain a peaceful nuclear program," Leach said at a news conference.

Leach and Lantos, the senior Democrat on the House International Relations Committee, said they had about 25 hours of meetings with North Korean officials during their five-day visit.

They met with Kim Gye Gwan, the chief North Korean nuclear envoy; Foreign Minister Paek Nam Sun and other government and military officials, according to a statement released by their delegation.




| | |
| --- | --- |
| | |
| Hurricane Katrina batters US | |

| | |
| --- | --- |
| | |
| Pakistani, Indian officials meet for peace | |

| | |
| --- | --- |
| | |
| Death toll of Baghdad bridge stampede nears 1,000 | |
Today's Top News
Top World News

New Orleans left to the dead and dying




President Hu's visit to the US postponed




Hu: War remembered for peace, future




China offers US$5 million to hurricane victims




1,697 financial staff punished for bank crimes




Death toll of Typhoon Talim rises to 54