New Orleans left to the dead and dying
(AP)
Updated: 2005-09-04 08:55
NEW ORLEANS - Thousands more bedraggled refugees were bused and airlifted to salvation Saturday, leaving the heart of New Orleans to the dead and dying, the elderly and frail stranded too many days without food, water or medical care. AP reported
No one knows how many were killed by Hurricane Katrina's floods and how many more succumbed waiting to be rescued. But the bodies are everywhere: hidden in attics, floating among the ruined city, crumpled on wheelchairs, abandoned on highways.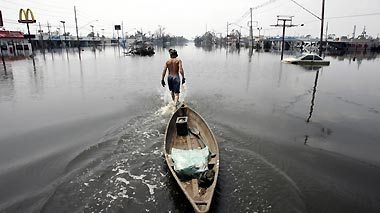 Hurricane Katrina survivor Paul Metzler pulls his boat along Paris St in Chalmette, a community about 7 miles (11 km) east of New Orleans, September 3, 2005. For the first time since Hurricane Katrina struck on August 29, rescuers are scouring the community for survivors. [Reuters]
And the dying goes on ¡ª at the convention center and an airport triage center, where bodies were kept in a refrigerated truck.
Gov. Kathleen Blanco said Saturday that she expected the death toll to reach the thousands. And Craig Vanderwagen, rear admiral of the U.S. Public Health Service, said one morgue alone, at a St. Gabriel prison, expected 1,000 to 2,000 bodies.
Touring the airport triage center, Senate Majority Leader Bill Frist, R-Tenn., a physician, said "a lot more than eight to 10 people are dying a day."
Most were those too sick or weak to survive. But not all.
Charles Womack, a 30-year-old roofer, said he saw one man beaten to death and another commit suicide at the Superdome. Womack was beaten with a pipe and being treated at the airport triage center.
"One guy jumped off a balcony. I saw him do it. He was talking to a lady about it. He said it reminded him of the war and he couldn't leave," he said.
Three babies died at the New Orleans Convention Center from heat exhaustion, said Mark Kyle, a medical relief provider.

| | |
| --- | --- |
| | |
| Hurricane Katrina batters US | |

| | |
| --- | --- |
| | |
| Pakistani, Indian officials meet for peace | |

| | |
| --- | --- |
| | |
| Death toll of Baghdad bridge stampede nears 1,000 | |
Today's Top News
Top World News

New Orleans left to the dead and dying




President Hu's visit to the US postponed




Hu: War remembered for peace, future




China offers US$5 million to hurricane victims




1,697 financial staff punished for bank crimes




Death toll of Typhoon Talim rises to 54