Death toll of Typhoon Talim rises to 54
(AFP)
Updated: 2005-09-04 08:04
BEIJING - China on Saturday raised the death toll from Typhoon Talim to at least 54, while 23 more people were listed as missing, state media reported.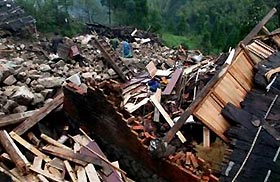 Chinese residents look for their belongings amid debris in a typhoon-hit village in Wencheng county, Wenzhou, east China's Zhejiang province, September 2, 2005. [newsphoto]

The death toll shot up after authorities in the eastern province of Anhui said 39 people, perhaps more, had lost their lives in the powerful typhoon and that nine were missing, the Xinhua news agency said.

In Wenzhou city, in east China's Zhejiang province, 14 were confirmed killed, while nine were missing in a series of thunderstorms, landslides and cave-ins brought about by Talim, Xinhua said.

The eye of the typhoon had now passed over Anhui and was continuing inland, entering Jiangxi province, the state-run news agency said.

In the Lushan mountain area near Jiangxi's border with Anhui, mudslides buried two buildings while 11 occupants were inside, Xinhua reported.

One was dead by the time rescue crews found him, and five others were injured. The remaining five were still missing as of late Saturday.

typhoon had caused severe property damage along its path, as heavy mud and rock flows had engulfed roads and flattened homes, according to the agency.

In the counties of Yuexi and Jinzhai, the worst-hit in Anhui, a total of 400,000 people were affected by the typhoon, the agency said.





| | |
| --- | --- |
| | |
| Relief materials from China heading to the US | |

| | |
| --- | --- |
| | |
| Gas burning kills 17 miners in Shanxi | |

| | |
| --- | --- |
| | |
| Blair tries football skills among Chinese kids | |
Today's Top News
Top China News

Growing energy moves by China make U.S. angry




Official: Shenzhou VI to be launched soon




New Orleans after Katrina: Back to Stone Age




Blair senses sea change in China visit




Iraqi Leader: Saddam confessed to crimes




Airbus, banking deals cement China-EU ties