EU fails on unblocking Chinese clothes
(Reuters)
Updated: 2005-09-03 16:23
European countries failed on Friday to agree on how to release millions of Chinese t-shirts, trousers, pullovers and other items that are blocked at EU borders, threatening to overshadow a China-EU summit next week.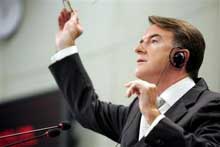 EU Trade Commissioner Peter Mandelson gestures while speaking during a press conference at EU headquarters on Monday, August 29, 2005. Mandelson said Monday he has started moves to unblock Chinese textile imports held up at EU frontiers. [AP]

"Talks collapsed, there was no agreement, too many member states did not agree to lift the block ahead of the negotiations with the Chinese," said an EU diplomat who attended the talks.

The lack of an agreement is a blow to European Trade Commissioner Peter Mandelson who was hopeful of getting the support of EU member states to free up an estimated 75 million Chinese-made clothing items prevented from entering the EU after quotas agreed in June were hit.

Mandelson will be travelling to Beijing to attend a summit of EU-Chinese leaders on Monday and is expected to meet Chinese Commerce Minister Bo Xilai on Sunday to continue trade talks.

Commission trade spokesman Peter Power said earlier on Friday that Mandelson -- who as trade commissioner negotiates trade policy on behalf of the 25 member states -- remained hopeful of a deal on the basis of his proposal to free up the blocked goods.

He has warned of clothing shortages and higher prices without a deal.

China's commerce minister also said on Friday he was confident of solving the problem.

EU countries with important retail sectors, like the Nordic states and Germany, have been at odds with other member states which have large textile industries of their own, such as France, Italy and Spain.

The producer countries have insisted that Beijing must cut its import quota levels for 2006 and 2007 in return for the EU allowing in more Chinese imports in 2005 than agreed in June.

A diplomat involved in Friday's talks in Brussels said France seemed willing to consider a compromise proposal to China under which some of the blocked goods would be counted against 2005 quotas for other items which have not yet been filled.

In return, China could be asked to accept a smaller reduction in its quota for future textile exports to the EU, the diplomat said.




| | |
| --- | --- |
| | |
| Relief materials from China heading to the US | |

| | |
| --- | --- |
| | |
| Gas burning kills 17 miners in Shanxi | |

| | |
| --- | --- |
| | |
| Blair tries football skills among Chinese kids | |
Today's Top News
Top China News

Growing energy moves by China make U.S. angry




Official: Shenzhou VI to be launched soon




New Orleans after Katrina: Back to Stone Age




Blair senses sea change in China visit




Iraqi Leader: Saddam confessed to crimes




Airbus, banking deals cement China-EU ties