Landslides triggered by typhoon kill nine
(Xinhua/AFP)
Updated: 2005-09-02 15:43
HANGZHOU -- Nine people were killed and another 15 have gone missing in a series of landslides and cave-ins caused by typhoon Talim in Wenzhou City, east China's Zhejiang Province.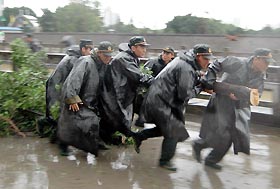 Soldiers brave strong winds and heavy rains to remove trees toppled by typhoon Talim on the streets of Fuzhou, capital of East China's Fujian Province, yesterday. [Xinhua]

Sources from the Wenzhou City Headquarters of Flood Control and Drought Relief said that Talim pounded Putian in Fujian Province, Zhejiang's close neighbor, at 2:30 p.m. on Thursday, packing gusts at a maximum speed of 126 kilometers per hour.

As Talim passed, there were concentrated rainstorms in Wenzhou, Taizhou and Lishui of Zhejiang. Landslides and cave-ins took place in mountainous areas including Wencheng, Taishun and Cangnan, all in Wenzhou, on Thursday night, with the worst occurring in Shixiang Township of Wencheng, where all the casualties occurred.

Over 300 civilian houses in Cangnan County were destroyed in the downpour.

Currently, rescue operations are experiencing difficulties as the traffic to Shixiang Township, a five hours' bus ride to the county seat of Wencheng, was halted because highways connecting to Shixiang were badly damaged in many places.

Zhejiang and Wenzhou authorities who have rushed to the seat of Wencheng have been going all out to reach the site of the disaster-hit Shixiang and expand rescue and relief efforts.

Coastal areas clean up

Hundreds of thousands of people have begun trudging home after Typhoon Talim's whipping rain and winds walloped the east coastal areas of the mainland.

Fujian bore the brunt of Talim's might in China, which barrelled into Quanzhou and Putian cities late Thursday, felling trees and power lines and forcing the evacuation of nearly 800,000 people across the region.

It has since been downgraded to a tropical storm as it churns its way inland, and many people were returning home to mop up, meteorological officials said.





| | |
| --- | --- |
| | |
| Goodbye, Fubiao | |

| | |
| --- | --- |
| | |
| Tibet Autonomous Region celebrates its 40th anniversary | |

| | |
| --- | --- |
| | |
| New semester begins across China | |
Today's Top News
Top China News

China's growth contributes to global economy - UK experts




Tibet sees forty years of marked progress




New Orleans in anarchy with fights, rapes




Landslides triggered by typhoon kill nine




Foreign missile umbrella on Taiwan opposed




Sino-US textile talks stop at red light