NBA seeks relocation for New Orleans Hornets
(AP)
Updated: 2005-09-02 10:18
NEW YORK (AFP) - New Orleans Hornets officials are looking into alternate locations for next month's pre-season workouts and entire National Basketball Association season in the aftermath of Hurricane Katrina.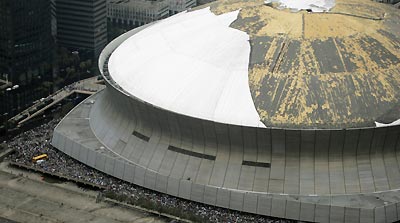 Thousands of residents are shown gathering outside the storm damaged Louisiana Super Dome in New Orleans September 1, 2005. Rotting bodies littered New Orleans' streets on Thursday and troops headed in to control looting and violence, as thousands of desperate survivors of Hurricane Katrina pleaded to be evacuated from the flooded city, or even just fed. [Reuters]
New Orleans has become a disaster area and is unlikely to be prepared to host sports events for months.
Little damage has been reported at New Orleans Arena, the Hornets' 112 million-dollar home adjacent to the refugee-haven Superdome stadium. But flooded streets and a lack of electricity have made the area uninhabitable.
"It's way too early to be able to predict how things will play out," NBA spokesman Tim Frank said.
The notion of games lifting the spirits of the city and recovery workers is not lost upon league officials, Frank said, but how soon that would become a viable option is unclear.
"Even if the arena is operable, it still may be impossible to play games in New Orleans for some time," NBA deputy commissioner Russ Granik wrote in an e-mail message obtained by The New York Times.
The Hornets were scheduled to train at the arena starting October 3, play an October 20 exhibition there against San Antonio at New Orleans and play their first regular season home game there on November 4 against Sacramento.
"The big thing is where to set up offices and where to play games," Hornets general manager Allan Bristow told USA Today. "We want to make sure that the first two weeks (of workouts) we're in a facility where we feel comfortable."
That could send the Hornets to Lousiana State University in Baton Rouge, 125 km northwest of New Orleans. But that campus has become a staging area for rescue and recovery efforts and might not be able to spare resources for games.
"That's where we start," Bristow said. "Hard to say where this thing is going to take us in the next few weeks."
The Hornets could utilize the 14,000-seat Maravich Center arena on the Louisiana State campus or the city's River Center coliseum.
League and team officials have said all Hornets players and personnel are safe but could have lost their homes.
The NBA has contributed two million dollars to relief efforts and other moves have been made by players with area ties such as Baron Davis, who spent three seasons with the Hornets before being traded to Golden State in February.
"The damage to the city from Hurricane Katrina is irreplaceable," Davis said. "Thousands of people are homeless. We all know someone who needs help."
Indiana's Jonathan Bender lives in Louisiana. The Pacers' swingman hopes to return home over the weekend.
"I hope I don't see any flooding or anything but I'm glad I've got insurance," he said. "That's everything I've got."
Chicago Bulls guard Chris Duhon, from suburban New Orleans, is organizing food, clothing and financial contributions for relief efforts.
"We're trying to give as much money and food and clothes as we can to just help people get back on their feet," Duhon said.
| | |
| --- | --- |
| | |
| David Beckham at training session with England | |

| | |
| --- | --- |
| | |
| Maria Sharapova practises Yoga | |

| | |
| --- | --- |
| | |
| Gianluigi Buffon and Alena Seredova | |
Today's Top News
Top Sports News

Tibet sees forty years of marked progress




New Orleans in anarchy with fights, rapes




Typhoon pounds Fujian, forcing evacuation




Foreign missile umbrella on Taiwan opposed




Video: Al-Qaida behind London blasts




Numerous pacts for EU-China summit