Privilege of China's wealthiest: A 2nd child
By Jun Wang (International Herald Leader/paci)
Updated: 2005-09-02 10:04
Jaiwei Du's parents wanted two sons. But they did not have the chance to have another son before China's one-child policy began in 1978, four years after Du was born.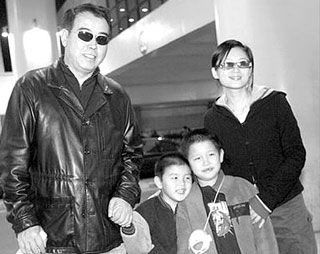 Famous Chinese film director Chen Kaige (L) poses a family photo with his actress wife Chen Hong and their two sons in Shanghai. The star couple have at least one of their children born in the US. [baidu]


But despite the same policy, Du, now a businessman in Guangzhou, has two sons and is planning to have another daughter. He paid a fine of 60,000 RMB (about $7500) to have his second son. But the fine is pocket change for Du, who owns a shoe factory and more than 14 million RMB (about $1.75 million) in assets.

According to the National Population and Family Planning Commission of China, families who can have two children are "at the two ends of the social scale." They are either so poor that the government never expects them to repay the fine, or so rich that the fine is meaningless. As China's economy and income skyrocket in recent years, the rich are finding it easy to evade the one-child policy.

Peasants pregnant with their second or third child typically escape from their hometown to avoid forced abortion by the local population and family planning officers. The rich don't need to escape. Instead, they simply pay the fine. According to the International Herald Leader, a businessman in Zhejiang Province paid a 0.4 million RMB ($80,000) fine for his second child.

High income also means more freedom to travel. Sometimes the wealthy deliver their children abroad so that the newborn children become foreign citizens, who are not covered by the Chinese one-child policy. Chinese film director Kaige Chen (Farewell my Concubine), an American permanent resident, and his actress wife have two sons, at least one was born in Los Angeles.

"There are not many people in such high-income level, so such legal loopholes have little influence on population control," says Weixiong Li, a population officer of the National Committee of the Chinese People's Political Consultative Conference. But Li admitted that it destroys the justice and equity of the one-child policy and other related laws.

Among young white collar workers in metropolitan cities like Beijing and Guangzhou, people who want two children outnumber those who only want one child by 34.6 percent, according to a 2002 report from the National Population and Family Planning Commission of China.

"The current relatively low birthrate is from the one-child policy," says Hao Zhou, a sociology professor from Nanjing University. People naturally want to have more than one child, he says.

"Once there's opportunity, the birthrate would rebound. High income creates such an opportunity," he says.




| | |
| --- | --- |
| | |
| Paris Hilton promotes her perfume | |

| | |
| --- | --- |
| | |
| Jolin Tsai | |

| | |
| --- | --- |
| | |
| Tomato fight! | |
Today's Top News
Top Life News

War remembered for peace, future: President Hu




Gov't to relax telecoms charging




Bush: Katrina response 'not acceptable'




Beijing plans easing of credit curbs




China, UK expect big deals




Talim kills at least 13 in 2 provinces