Numerous pacts for EU-China summit
By Qin Jize (China Daily)
Updated: 2005-09-02 05:36
A wealth of agreements concerning maritime transportation, environmental protection and biological diversity will be reached at the upcoming annual EU-China Summit in Beijing next week.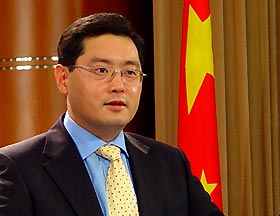 Foreign Ministery spokesman Qin Gang answers questions a regular press conference in Beijing, September 1, 2005. [fmprc]

Foreign Ministry spokesman Qin Gang announced the news yesterday at a regular press briefing, the first after the summer break.

President Hu Jintao will meet with the European delegation to the summit next Monday before leaving for the United States for his three-nation tour.

Among the dignitaries to attend the Eighth EU-China Summit in Beijing this year will be Chinese Premier Wen Jiabao, British Prime Minister Tony Blair, and European Commission President Jose Manuel Barroso. Britain currently holds the EU presidency.

Qin said the summit would cover a wide range of topics in a bid to further promote the China-EU comprehensive strategic partnership.

He said the Second EU-China Business Summit would also be held next week, hoping to increase the level of practical co-operation.

Reports said the two sides would also announce the beginning of formal talks on a new EU-China framework agreement.

Observers believed the summit is another strong signal of mutual commitment to deepen bilateral relations.

EU became China's largest trade partner last year while China was EU's second biggest trade partner, according to Qin, who said he has full confidence in the rosy prospects of bilateral co-operation.