Video: Al-Qaida behind London blasts
(AP)
Updated: 2005-09-02 06:59
CAIRO, Egypt - Al-Qaida's No. 2 made the terror group's first direct claim of responsibility for the July 7 bombings in London in a tape broadcast Thursday that also included a farewell warning to the West from a man identified as one of the four suicide attackers, AP reported.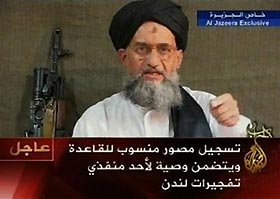 This is a video grab taken from the pan-Arab televison TV channel Al Jazeera and aired on Thursday Sept. 1, 2005, shows Al Quaida's No.2, Ayman al-Zawahri making a statement. [Reuters]

Speaking English, the bomber identified as Mohammad Sidique Khan said he had forsaken "everything for what we believe" and went on to accuse Western civilians of being directly responsible for the terror attacks that befall them.

"Your democratically elected governments continuously perpetuate injustice against my people all over the world, and your support of them makes you directly responsible, just as I am directly responsible for protecting and avenging my Muslim brothers and sisters," said Khan, wearing a red-and-white checked keffiyeh and a dark jacket and apparently sitting against a wall lined with an ornate carpet.

Khan said he was inspired by al-Qaida leader Osama bin Laden; al-Qaida No. 2 Ayman al-Zawahri, who also appeared on the tape; and by the leader of al-Qaida in Iraq, Abu-Musab al-Zarqawi.

"Until we feel security, you will be our targets," he said. "Until you will stop the bombing, gassing, imprisonment and torture of my people, we will not stop this fight."

In his portion of the tape, al-Zawahri did not say outright that his terror group carried out the bombings on the London transport system that killed 52 people and the four attackers. But he said the attacks were a direct response to Britain's foreign policies and its rejection of a truce that al-Qaida offered Europe in April 2004.





| | |
| --- | --- |
| | |
| Pakistani, Indian officials meet for peace | |

| | |
| --- | --- |
| | |
| Death toll of Baghdad bridge stampede nears 1,000 | |

| | |
| --- | --- |
| | |
| Barretos Rodeo International Festival | |
Today's Top News
Top World News

Tibet sees forty years of marked progress




New Orleans in anarchy with fights, rapes




Typhoon pounds Fujian, forcing evacuation




Foreign missile umbrella on Taiwan opposed




Video: Al-Qaida behind London blasts




Numerous pacts for EU-China summit