New Orleans in anarchy with fights, rapes
(AP)
Updated: 2005-09-02 06:59
NEW ORLEANS - New Orleans descended into anarchy Thursday, as corpses lay abandoned in street medians, fights and fires broke out and storm survivors battled for seats on the buses that would carry them away from the chaos. The tired and hungry seethed, saying they had been forsaken. "This is a desperate SOS," mayor Ray Nagin said. AP reported.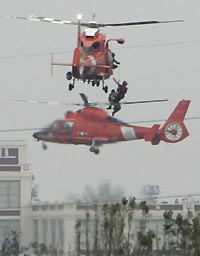 A Coast Guard helicopter plucks a Hurricane Katrina survivor from a rooftop in New Orleans, September 1, 2005. [Reuters]

"We are out here like pure animals," the Rev. Issac Clark said outside the New Orleans Convention Center, where he and other evacuees had been waiting for buses for days amid the filth and the dead.

Four days after Hurricane Katrina roared in with a devastating blow that inflicted potentially thousands of deaths, the frustration and anger mounted, despite the promise of 1,400 National Guardsmen a day to stop the looting, plans for a $10 billion recovery bill in Congress and a government relief effort President Bush called the biggest in U.S. history.

New Orleans' top emergency management official called that effort a "national disgrace" and questioned when reinforcements would actually reach the increasingly lawless city.

About 15,000 to 20,000 people who had taken shelter at New Orleans convention center to await buses grew increasingly hostile. Police Chief Eddie Compass said he sent in 88 officers to quell the situation at the building, but they were quickly driven back by an angry mob.





| | |
| --- | --- |
| | |
| Hurricane Katrina batters US | |

| | |
| --- | --- |
| | |
| Pakistani, Indian officials meet for peace | |

| | |
| --- | --- |
| | |
| Death toll of Baghdad bridge stampede nears 1,000 | |
Today's Top News
Top World News

Tibet sees forty years of marked progress




New Orleans in anarchy with fights, rapes




Typhoon pounds Fujian, forcing evacuation




Foreign missile umbrella on Taiwan opposed




Video: Al-Qaida behind London blasts




Numerous pacts for EU-China summit