Looters rampage in New Orleans, survivors flee
(Reuters)
Updated: 2005-09-01 21:13
Looters rampaged through flooded streets and survivors scrambled to get out on Thursday as shell-shocked officials tried to regain control of the historic jazz city reduced to ruin by Hurricane Katrina.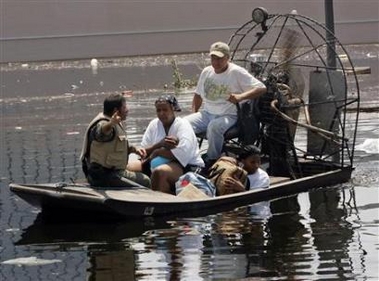 People, including a woman with a baby, are evacuated from flooded New Orleans East on a jet boat August 31, 2005 after Hurricane Katrina struck the area. Authorities struggled on Wednesday to evacuate thousands of people from hurricane-battered New Orleans as food and water grew scarce and looters raided stores, while U.S. President George W. Bush said it would take years to recover from the devastation. [Reuters]
An operation to bus more than 20,000 refugees to the Houston Astrodome was suspended temporarily when shots were fired in New Orleans at helicopters being used in the evacuation, a local government spokeswoman in Houston said.
The incident was part of the chaos that prompted New Orleans Mayor Ray Nagin to order police to drop rescue operations to fight the crime that gripped the besieged city.
An angry Louisiana Gov. Kathleen Blanco told reporters: "We will do what it takes to bring law and order to our area."
"I'm just furious. It's intolerable," she said of the growing crime wave.
As more National Guard and Army troops headed into the region to help with relief efforts, thousands of people waited hours or waded through floodwaters to catch rides out of New Orleans, one of the world's most famous tourist destinations and the birthplace of jazz.
Storm survivors sheltered in the Superdome football stadium scrambled to get out of the city, clambering onto 300 buses that shipped them 350 miles west to the Astrodome in Houston.
The first of more than 20,000 people began arriving early Thursday at the stadium, where Red Cross workers set out thousands of cots and "comfort kits" that included various toiletries and a meal.
But the operation was put on hold when shots were fired at Chinook military helicopters being used to transport the evacuees.
"We were told they are shooting at Chinook helicopters and the operation has been put on hold until daylight," said Gloria Roemer, spokeswoman for Harris County Judge Robert Eckels.
WIDESPREAD LOOTING
Elsewhere in New Orleans, gunshots repeatedly rang out and fires flared as looters broke into stores, houses, hospitals and office buildings -- some in search of food, others looking for anything of value.
They broke windows, tore down security gates and knocked down doors, then hauled away what they could carry or cart.
Similar scenes were playing out in Mississippi where looters freely ransacked stores in Biloxi and Gulfport, both shattered by the storm that slammed into the U.S. Gulf Coast on Monday with 140 mile per hour (225 kph) winds and a 30-foot (9-meter) storm surge.
Hundreds of people are believed to have died in what officials say will be one of the worst natural disasters in U.S. history.
Nagin, the New Orleans mayor, estimated it would be 12 to 16 weeks before residents of the city could return. A million people fled the New Orleans area before Katrina arrived. But former Mayor Sidney Barthelemy estimated 80,000 had been trapped in the city.
Amid the gloom was good news that floodwaters had started to drop in New Orleans, which is mostly below sea level and was inundated by water from Lake Pontchartrain after levees broke.
"Water is now flowing slowly out of New Orleans," the U.S. Army Corps of Engineers said in a statement.
It said it would it would open holes in parts of the city's levee system to let water drain out while at the same time attempting to fix several large breaches torn out by Katrina's storm surge.
Corps officials estimated it could take a month to get the water out.
Some people left homeless in Mississippi and Louisiana were frustrated with relief efforts.
"Many people didn't have the financial means to get out," said Alan LeBreton, 41, an apartment superintendent who lived on Biloxi, Mississippi's seaside road, now in ruins. "That's a crime and people are angry about it."
The Biloxi Sun Herald newspaper said in an editorial emergency supplies "simply are not getting here fast enough" and asked "why hasn't every able-bodied member of the armed forces in South Mississippi been pressed into service?"
President Bush flew over stricken areas on his return to Washington from his Texas vacation and said, "We are dealing with one of the worst natural disasters in our nation's history."
"This recovery will take a long time. This recovery will take years," Bush said.
His administration declared a public health emergency amid concern about outbreaks of disease and began working with Congress on emergency legislation to assist recovery efforts from the disaster that some officials said rivaled the September 11, 2001, attacks.
Bush warned against price-gouging of gasoline in the aftermath of Katrina and condemned the looting.
"I think there ought to be zero tolerance of people breaking the law during an emergency such as this, whether it be looting, or price-gouging at the gasoline pump or taking advantage of charitable giving, or insurance fraud," Bush said in an interview on ABC's "Good Morning America."
The storm was having a national impact as gasoline prices soared. The hurricane cut a swath through a region responsible for about a quarter of the nation's oil and gas output.
The administration said it would release oil from the nation's strategic reserves to offset losses in the Gulf of Mexico, where the storm had shut down production.
The U.S. Coast Guard reported at least 20 oil rigs or platforms missing in the Gulf of Mexico, either sunk or adrift, while officials estimated 95 percent of regional oil and natural gas production and eight refineries along the coast remained shut down.
Several crude pipelines on the Gulf Coast remained out of service due to power outages, damage and flooding.
| | |
| --- | --- |
| | |
| Pakistani, Indian officials meet for peace | |

| | |
| --- | --- |
| | |
| Death toll of Baghdad bridge stampede nears 1,000 | |

| | |
| --- | --- |
| | |
| Barretos Rodeo International Festival | |
Today's Top News
Top World News

New Orleans mayor: Katrina may have killed thousands




Baghdad bridge stampede kills 965




Iraq mourns as stampede loss overshadows war




Talks fail, US limits some China textile imports




Oil price not to restrain China, India growth




Corruption behind coal mine woes targetted