Looting escalates in New Orleans
(Reuters)
Updated: 2005-09-01 19:29
With thousands feared dead and the city's remaining residents told to evacuate for weeks, conditions deteriorated further in submerged New Orleans as looting spiraled out of control.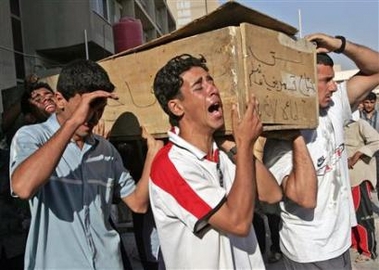 A Rite Aid Drug Store in New Orleans had it's front door pried open by someone driving a forklift on Wednesday, Aug. 31, 2005. Police officers came by a short time later and stopped at the drug store but did little to stop the looters who were taking food from the store. [AP]


Mayor Ray Nagin ordered virtually the entire police force to abandon search-and-rescue efforts and stop thieves who were becoming increasingly hostile.

"They are starting to get closer to heavily populated areas ! hotels, hospitals, and we're going to stop it right now," Nagin said Wednesday.

Tempers also were starting to flare. Police said a man in Hattiesburg, Miss., fatally shot his sister in the head over a bag of ice. Dozens of carjackings were reported, including a nursing home bus and a truck carrying medical supplies for a hospital. Some police officers said they had been shot at.

Earlier Wednesday, Nagin called for a total evacuation, saying that New Orleans will not be functional for two or three months and that people would not be allowed back into their homes for at least a month or two.

The first of nearly 25,000 refugees being sheltered at the Superdome were transported in buses to the Astrodome in Houston, 350 miles away. Conditions in the Superdome had become horrendous: There was no air conditioning, the toilets were backed up, and the stench was so bad that medical workers wore masks as they walked around.

Asked how many people died in the hurricane, Naglin said: "Minimum, hundreds. Most likely, thousands." The death toll has already reached at least 110 in Mississippi.

If the mayor's death-toll estimate holds true, it would make Katrina the worst natural disaster in the United States since at least the 1906 San Francisco earthquake and fire, which have blamed for anywhere from about 500 to 6,000 deaths. Katrina would also be the nation's deadliest hurricane since 1900, when a storm in Galveston, Texas, killed between 6,000 and 12,000 people.

Even as stopping the looting became a top priority, Tenet HealthCare Corp. asked authorities late Wednesday to help evacuate a fully functioning hospital in Gretna after a supply truck carrying food, water and medical supplies was held up at gunpoint.

"There are physical threats to safety from roving bands of armed individuals with weapons who are threatening the safety of the hospital," said spokesman Steven Campanini. He estimated there were about 350 employees in the hospital and between 125 to 150 patients.

Looters used garbage cans and inflatable mattresses to float away with food, clothes, TV sets ! even guns. Outside one pharmacy, thieves commandeered a forklift and used it to push up the storm shutters and break through the glass. The driver of a nursing-home bus surrendered the vehicle to thugs after being threatened.

President Bush flew over New Orleans and parts of Mississippi's hurricane-blasted coastline in Air Force One. Turning to his aides, he said: "It's totally wiped out. ... It's devastating, it's got to be doubly devastating on the ground."

"We're dealing with one of the worst national disasters in our nation's history," Bush said later in a televised address from the White House, which most victims could not see because power remains out to 1 million Gulf Coast residents.

He planned to appear on ABC's "Good Morning America" Thursday to discuss the tragedy and recovery efforts.

The federal government dispatched helicopters, warships and elite SEAL water-rescue teams in one of the biggest relief operations in U.S. history, aimed at plucking residents from rooftops in the last of the "golden 72 hours" rescuers say is crucial to saving lives.

As fires burned from broken natural-gas mains, the skies above the city buzzed with National Guard and Coast Guard helicopters frantically dropping baskets to roofs where victims had been stranded since the storm roared in with a 145-mph fury Monday. Atop one apartment building, two children held up a giant sign scrawled with the words: "Help us!"

Hundreds of people wandered up and down shattered Interstate 10 ! the only major freeway leading into New Orleans from the east ! pushing shopping carts, laundry racks, anything they could find to carry their belongings.

On some of the few roads that were still open, people waved at passing cars with empty water jugs, begging for relief. Hundreds of people appeared to have spent the night on a crippled highway.

Nagin, whose pre-hurricane evacuation order got most of his city of a half a million out of harm's way, estimated 50,000 to 100,000 people remained, and said that 14,000 to 15,000 a day could be evacuated in ensuing convoys.

The floodwaters streamed into the city's streets from two levee breaks near Lake Pontchartrain a day after New Orleans thought it had escaped catastrophic damage from Katrina. The floodwaters covered 80 percent of the city, in some areas 20 feet deep, in a reddish-brown soup of sewage, gasoline and garbage.

Around midday Wednesday, officials with the state and the Army Corps of Engineers said the water levels between the city and Lake Pontchartrain had equalized, and even appeared to be falling. But the danger was far from over.

The Corps of Engineers said it planned to use heavy-duty Chinook helicopters to drop 15,000-pound bags of sand and stone into a 500-foot gap in the failed floodwall.

But the agency said it was having trouble getting the sandbags and dozens of 15-foot highway barriers to the site because the city's waterways were blocked by loose barges, boats and large debris.

The full magnitude of the disaster had been unclear for days ! in part, because some areas in both coastal Mississippi and Louisiana are still unreachable, but also because authorities' first priority has been reaching the living.

In Mississippi, for example, ambulances roamed through the passable streets of devastated places such as Biloxi, Gulfport, Waveland and Bay St. Louis, in some cases speeding past corpses in hopes of saving people trapped in flooded and crumbled buildings.

State officials said Nagin's guess of thousands dead seemed plausible.

Lt. Kevin Cowan of the state Office of Emergency Preparedness said it is too soon to say with any accuracy how many died. But he noted that since thousands of people had been rescued from roofs and attics, it could be assumed that there were lots of others who were not saved.

"You have a limited number of resources, for an unknown number of evacuees. It's already been several days. You've had reports there are casualties. You all can do the math," he said.

On the flooded streets of New Orleans, dozens of fishermen from up to 200 miles away floated in on caravans of boats to pull residents out.

One of those rescued was 40-year-old Kevin Montgomery, who spent three days shuttling between the attic of a one-story home and a canopy he built on the roof. Every once in a while, Mongtomery would see a body float by. But he cannot swim and had to fight the urge to wade in and tie them down.

"It was terrible," he said. "All I could do was pass them by and hope that God takes care of the rest of that."

Several telethons were announced to help hurricane victims. One will air on NBC, MSNBC and CNBC at 8 p.m. Friday, with performances including Wynton Marsalis and Harry Connick Jr. Another is scheduled for Sept. 10 on MTV, VH1 and CMT and will include Green Day, Ludacris and Alicia Keys.

Jerry Lewis' annual Labor Day fundraiser for the Muscular Dystrophy Association also will include celebrity appeals for help.

Although the Bush administration decided to release crude oil from the federal petroleum reserves after Katrina knocked out 95 percent of the Gulf of Mexico's output, gasoline prices surged above $3 a gallon in many parts of the country.




| | |
| --- | --- |
| | |
| Pakistani, Indian officials meet for peace | |

| | |
| --- | --- |
| | |
| Death toll of Baghdad bridge stampede nears 1,000 | |

| | |
| --- | --- |
| | |
| Barretos Rodeo International Festival | |
Today's Top News
Top World News

New Orleans mayor: Katrina may have killed thousands




Baghdad bridge stampede kills 965




Iraq mourns as stampede loss overshadows war




Talks fail, US limits some China textile imports




Oil price not to restrain China, India growth




Corruption behind coal mine woes targetted