Iraq mourns as stampede loss overshadows war
(Reuters)
Updated: 2005-09-01 19:17
Grieving relatives of about 1,000 Iraqis killed in a stampede combed hospitals and morgues on Thursday for missing loved ones as the nation grieved over a tragedy which has overshadowed the daily bloodshed of war.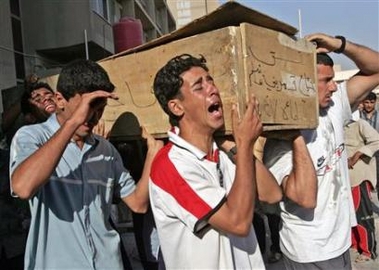 Iraqi men cry as they make a delivery of a body from the morgue for burial in Baghdad September 1 2005. Crowds gathered on Thursday for the funerals of some 1,000 Iraqis killed in a stampede during a religious festival, as the nation grieved over a tragedy which has overshadowed the daily bloodshed of war. [Reuters]
Funeral tents were erected in the impoverished Baghdad Shi'ite suburb of Sadr City as relatives prepared to mourn their dead, before most of the bodies were due to begin their final journey to Najaf, the most holy Shi'ite city, for burial.
Three days of official mourning will quieten a country inured to mass killing on its streets but shocked by the disaster.
At least 965 people were confirmed to have died on Wednesday when thousands of Shi'ite pilgrims taking part in a religious festival rushed for imagined safety on to a bridge across the Tigris in Baghdad, only to die in the river below or be crushed on the roadway.
The final toll, one senior official said, was likely to be more than 1,000, once all the bodies scattered in hospitals, makeshift morgues and family homes across the city were counted.
They lay under white sheets, under foil blankets and makeshift shrouds, in corridors and on pavements, as anxious or grieving relatives searched for loved ones.
Though fears of sectarian attacks, real or imagined, may have contributed to the fear that drove the pilgrims to their deaths, the shock was felt across the factional divides.
People streamed to help from Aadhamiya, the mainly Sunni Arab district across the river from the Kadhimiya shrine that was the focus of Shi'ite worship on Wednesday.
A barrage of mortar and rocket attacks on the crowd, some 200,000 strong or more, had added to the tension early in the day. It killed seven people and was claimed by a Sunni group avowing links to the insurgency against the U.S.-backed, Shi'ite-led government.
Then, whether by malicious design or simple panic, a warning from within the crowd of a suicide bomber among them sparked a rush for safety that proved illusory. Blood dripped from concrete walls around the bridge. Bodies drifted in the river.
Prime Minister Ibrahim Jaafari, apparently accepting that the stampede was inspired by Sunni radicals bent on exploiting sectarian divides, vowed tough action against them.
"The coming period will witness a strategic development in confronting terror and terrorists. And we will hit hard those murderers, radical militants and Saddamists," he said in a statement on Thursday.
WOMEN AND CHILDREN
Most of the victims were women and children who "died by drowning or being trampled," an Interior Ministry official said.
"Hundreds of people started running and some threw themselves off the bridge into the river," a police source said.
"Many elderly died immediately ... but dozens drowned, many bodies are still in the river and boats are working on picking them up."
It was by far the biggest loss of life in such a crowd since more than 1,400 pilgrims died at Mecca during the haj in 1990.
Constant coverage on national television included an appeal for relatives to claim a baby held up to the camera. He was found next to his mother's body.
Interior Minister Bayan Jabor and other Shi'ite officials blamed Sunni insurgents for the stampede, but Defense Minister Saadoun al-Dulaimi, a Sunni Arab himself, said it was not related to sectarian tensions gripping Iraq since the U.S.-led invasion in March 2003.
Whatever sparked the rush for safety, the fear that a bomber might be on the loose was well grounded after previous attacks on Shi'ite religious events in the past two years.
Tensions are high among Iraq's rival religious and ethnic communities ahead of a referendum on a new constitution for the post- Saddam Hussein era.
| | |
| --- | --- |
| | |
| Pakistani, Indian officials meet for peace | |

| | |
| --- | --- |
| | |
| Death toll of Baghdad bridge stampede nears 1,000 | |

| | |
| --- | --- |
| | |
| Barretos Rodeo International Festival | |
Today's Top News
Top World News

New Orleans mayor: Katrina may have killed thousands




Baghdad bridge stampede kills 965




Talks fail, US limits some China textile imports




Oil price not to restrain China, India growth




Corruption behind coal mine woes targetted




China Southern Airlines to buy 10 Boeing 787s