Talks fail, US limits some China textile imports
(Reuters/AFP)
Updated: 2005-09-01 14:45
WASHINGTON - The United States announced on Thursday to restrict imports of Chinese-made bras and synthetic filament fabric used to make high-end clothing after failing to reach a comprehensive textile trade agreement with China, the Commerce Department said.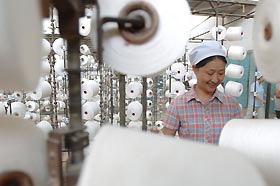 A Chinese woman works on a production line at a textile factory in Hefei, east China's Anhui province, August 30, 2005. [Reuters]

"Today's announcement demonstrates the administration's commitment to leveling the playing field for U.S. industries by enforcing our trade agreements," Commerce Deputy Assistant Secretary Jim Leonard said in a statement. "We will continue to consult with the Chinese to find a solution that will permit the orderly development of textile and apparel trade."

The announcement came on the third day of talks between U.S. and Chinese officials in Beijing aimed at crafting an agreement to slow surging shipments of low-cost Chinese clothing to the United States.

The U.S. Embassy statement said the second round of negotiations between China and the United States aimed at resolving a dispute over textile trade broke down Thursday.

"Talks with the Chinese aimed at reaching a comprehensive agreement on textiles ended a short while ago," said David Spooner, the US point man on textiles, who has headed the US delegation to the talks.

"Despite our best efforts we were not able to reach a broader agreement," he said in a statement. "The United States remains optimistic that we can continue to make progress on the remaining issues," Spooner said in his statement.

"We will be consulting with the Chinese over the next few days on the date and location of the next round of negotiations."

The talks had been scheduled to last only Tuesday and Wednesday, but carried on into an unscheduled third day.

Spooner was due to leave China late in the afternoon for the United States, according to a US embassy spokesperson.

The Chinese side confirmed that the talks ended, but did not give a hint whether there was an agreement, according to a Xinhua report.

The Bush administration, which has already blocked imports of billions of dollars of Chinese-made underwear, shirts and trousers this year, had been scheduled to decide by Wednesday whether to restrict Chinese clothing imports in several additional categories.

The Commerce Department said on Thursday it would invoke an emergency World Trade Organization provision to restrict imports of Chinese-made bras and some synthetic filament fabric.

But it delayed a decision on curbing imports of sweaters, robes, wool trousers and knit fabric until October 1, or a little more than one month.




| | |
| --- | --- |
| | |
| President Hu congratulates Tibet's anniversary | |

| | |
| --- | --- |
| | |
| Flood-ravaged school has new teaching building | |

| | |
| --- | --- |
| | |
| Leshan giant buddha | |
Today's Top News
Top China News

New Orleans mayor: Katrina may have killed thousands




Baghdad bridge stampede kills 965




Talks fail, US limits some China textile imports




Oil price not to restrain China, India growth




Corruption behind coal mine woes targetted




China Southern Airlines to buy 10 Boeing 787s