Hariri probe focuses attention on Syria
(AP)
Updated: 2005-09-01 09:07
The U.N. probe into the murder of former Lebanese Prime Minister Rafik Hariri — in which four pro-Syrian generals and a lawmaker were named as suspects — has increased pressure on Syria by stoking suspicions that government members played a role in the killing, AP reported.
The generals were questioned Wednesday, a day after they were detained or surrendered to authorities at the request of United Nations investigators trying to determine who was behind the Feb. 14 bombing that killed Hariri and 20 other people.
A staunchly pro-Syrian former legislator was released Wednesday after he also was named as a suspect and returned from Syria for questioning.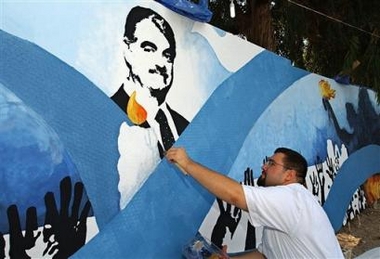 Lebanese artist Zaher Al-Bizri paints the portrait of slain former Lebanese Prime Minister Rafik Hariri on a 7 x 1.83 meters' (23 x 6 feet) painting, marking the 200th day since the Feb. 14 assassination of Hariri, in the southern city of Sidon, Lebanon, Wednesday, Aug. 31, 2005. [AP]

The recent developments led some to predict Washington would use the information to increase pressure on Syria, which the United States claims is supporting Islamic militants battling U.S. forces in Iraq and Palestinian militants in their fight with Israel.

"The Lebanese arena will be used by those hostile to Syria to keep pressuring Syria," said Ibrahim Bayram, an analyst for the respected Beirut daily, An-Nahar.

The Lebanese government detained Maj. Gen. Jamil Sayyed, former chief of the General Security department; Maj. Gen. Ali Hajj, former police chief, and Brig. Gen. Raymond Azar, former head of military intelligence. Presidential Guards Brigade commander Brig. Gen. Mustafa Hamdan, surrendered as did ex-legislator Nasser Qandil, who was released early Wednesday.

As questioning continued Wednesday, U.N. investigators and Lebanese forensic experts visited two apartments south of Beirut that may have been used to plan the Hariri assassination, according to a Lebanese security official who declined to be identified because of the sensitivity of the case.

The investigators searched the flats and lifted fingerprints. Lebanese police later detained at least four more people, including a man believed to own one of the apartments, the official said.

Hariri's death provoked massive protests that led to the April withdrawal of thousands of Syrian forces from Lebanon, ending a three-decade occupation, and the ouster of Lebanon's pro-Syrian government.

Many Lebanese blamed Syria and its Lebanese allies, particularly members of the country's security apparatus, for the assassination. Both sides have denied the allegations.

There has been no official reaction from Damascus to the latest developments, but Syrian media, all state-run, reported the news, and editorials dismissed insinuations of a possible Syrian role as an attempt to discredit the country.

"Misleading campaigns are continuing," said a front-page headline in Al-Thawra newspaper.

Elias Murad, editor-in-chief of Al-Baath newspaper, said the Lebanese generals' closeness to Syria "is not strange as the vast majority of the Lebanese have good relations with Syria."

The developments come at a difficult time for Syria. It has been under U.S. economic sanctions since before the assassination for not doing enough to curb the flow of militants across its border into Iraq. Shortly after Hariri's murder, Washington recalled its ambassador, Margaret Scobey, to protest the bombing.

Since then, Syria has been in isolation. No high-ranking Americans have visited. There has been no movement on a trade association agreement with the European Union that's crucial to the country's ailing economy.

At a closed Security Council briefing Tuesday, Undersecretary-General for Political Affairs Ibrahim Gambari said "there has been no cooperation" from Syria in the investigation, according to U.S. deputy U.N. Ambassador Anne Patterson.




| | |
| --- | --- |
| | |
| Death toll of Baghdad bridge stampede nears 1,000 | |

| | |
| --- | --- |
| | |
| Barretos Rodeo International Festival | |

| | |
| --- | --- |
| | |
| Katrina hits US Gulf Coast | |
Today's Top News
Top World News

Baghdad bridge stampede kills 965




Sino-US textile talks fail to yield any result




Corruption behind coal mine woes targetted




New Orleans mayor: Thousands likely dead




Human rights deal with UN signals progress




China Southern Airlines to buy 10 Boeing 787s