New Orleans mayor: Katrina may have killed thousands
(AP)
Updated: 2005-09-01 08:47
The federal government dispatched helicopters, warships and elite SEAL water-rescue teams in one of the biggest relief operations in U.S. history, aimed at plucking residents from rooftops in the last of the "golden 72 hours" rescuers say is crucial to saving lives.
As fires burned from broken natural-gas mains, the skies above the city buzzed with National Guard and Coast Guard helicopters frantically dropping baskets to roofs where victims had been stranded since the storm roared in with a 145-mph fury Monday. Atop one apartment building, two children held up a giant sign scrawled with the words: "Help us!"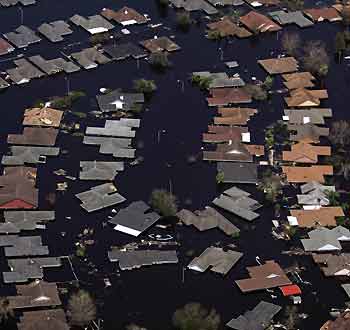 An entire neighborhood is submerged in New Orleans, Louisiana after Hurricane Katrina struck August 31, 2005. Authorities struggled on Wednesday to evacuate thousands of people from hurricane-battered New Orleans as food and water grew scarce and looters raided stores, while U.S. President George W. Bush said it would take years to recover from the devastation. [Reuters]

Looters used garbage cans and inflatable mattresses to float away with food, blue jeans, tennis shoes, TV sets ¡ª even guns. Outside one pharmacy, thieves commandeered a forklift and used it to push up the storm shutters and break through the glass. The driver of a nursing-home bus surrendered the vehicle to thugs after being threatened.

Police said their first priority remained saving lives, and mostly just stood by and watched the looting. On Tuesday, an officer who tried to intervene was shot in the head and critically wounded.

Hundreds of people wandered up and down shattered Interstate 10 ¡ª the only major freeway leading into New Orleans from the east ¡ª pushing shopping carts, laundry racks, anything they could find to carry their belongings.

On some of the few roads that were still open, people waved at passing cars with empty water jugs, begging for relief. Hundreds of people appeared to have spent the night on a crippled highway.

Starting late Wednesday, authorities planned to move at least 25,000 storm refugees to the Astrodome in a vast, two-day convoy of some 500 buses provided by the federal government. With the air-conditioning knocked out, the Superdome has become stifling, its toilets are broken and there is nowhere for anyone to bathe.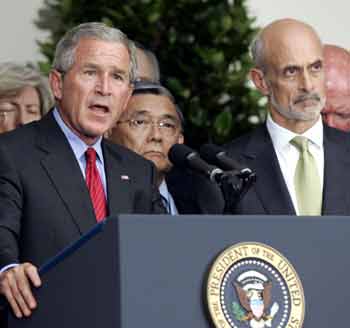 U.S. President George W. Bush speaks in the Rose Garden, after a meeting with members of the White House Task Force on Hurricane Katrina Recovery, in Washington August 31, 2005. Bush cut short his vacation to oversee the federal response to Hurricane Katrina ahead of an expected visit to devastated Gulf Coast areas later this week. At right is Homeland Security Secretary Michael Chertoff. [Reuters]

Nagin, whose pre-hurricane evacuation order got most of his city of a half a million out of harm's way, estimated 50,000 to 100,000 people remained, and said that 14,000 to 15,000 a day could be evacuated in ensuing convoys.

"We have to," Nagin said. "It's not living conditions."

In addition to the Astrodome solution, the Federal Emergency Management Agency was considering putting people on cruise ships, in tent cities, mobile home parks, and so-called floating dormitories.

The floodwaters streamed into the city's streets from two levee breaks near Lake Pontchartrain a day after New Orleans thought it had escaped catastrophic damage from Katrina. The floodwaters covered 80 percent of the city, in some areas 20 feet deep, in a reddish-brown soup of sewage, gasoline and garbage.

Around midday, officials with the state and the Army Corps of Engineers said the water levels between the city and Lake Pontchartrain had equalized, and water had stopped spilling into New Orleans, and even appeared to be falling. But the danger was far from over.

The Army Corps of Engineers said it planned to use heavy-duty Chinook helicopters to drop 15,000-pound bags of sand and stone as early as Wednesday night into the 500-foot gap in the failed floodwall.

But the agency said it was having trouble getting the sandbags and dozens of 15-foot highway barriers to the site because the city's waterways were blocked by loose barges, boats and large debris.





| | |
| --- | --- |
| | |
| Death toll of Baghdad bridge stampede nears 1,000 | |

| | |
| --- | --- |
| | |
| Barretos Rodeo International Festival | |

| | |
| --- | --- |
| | |
| Katrina hits US Gulf Coast | |
Today's Top News
Top World News

New Orleans mayor: Katrina may have killed thousands




Baghdad bridge stampede kills 965




Sino-US textile talks fail to yield any result




Corruption behind coal mine woes targetted




Human rights deal with UN signals progress




China Southern Airlines to buy 10 Boeing 787s