Baghdad bridge stampede kills 965
(AFP)
Updated: 2005-09-01 06:59
BAGHDAD - At least 965 Iraqis were crushed to death or drowned in a stampede on a Baghdad bridge as vast crowds of Shiite pilgrims were sent into panic by rumours of suicide bombers in their midst, AFP reported.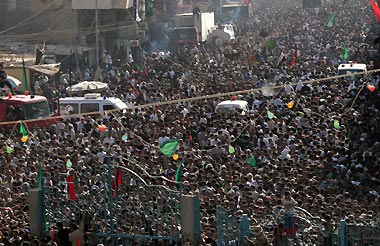 Ambulances remain on standby among the crowd of Iraqi pilgrims near the Kadhimiya mosque in Baghdad August 31, 2005. [Reuters]


In Iraq's deadliest day since the US-led war of March 2003, hundreds of women, children and elderly people were trampled underfoot or jumped to their deaths from the bridge after a deadly mortar strike on a Shiite shrine.

Iraq authorities said the tragedy -- which risks inflaming sectarian tensions in the country -- was a "terrorist" act by toppled dictator Saddam Hussein's loyalists and Al-Qaeda frontman in Iraq, Abu Musab al-Zarqawi.

A security official said 965 were killed and 465 injured in the crush of pilgrims who converged on the Kadhimiya mosque in northern Baghdad for a ceremony mourning the death of a revered Shiite imam.

"We are expecting more drowned corpses to surface," he said.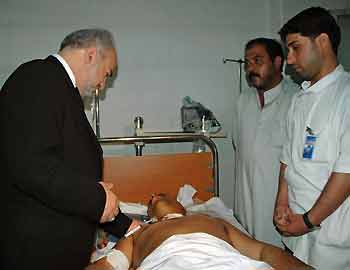 Iraqi Prime Minister Ibrahim al-Jaafari speaks to a man, who was injured during a stampede, at the Al-Kadhimiya hospital in Baghdad September 1, 2005. Crowds gathered on Thursday for the funerals of some 1,000 Iraqis killed in a stampede during a religious festival, as the nation grieved over a tragedy which has overshadowed the daily bloodshed of war.[Reuters]

Most were trampled to death or fell from Al-Aaimmah bridge into the Tigris river as panic gripped thousands of pilgrims among the several million attempting to make their way to the mosque.

"The terrorist pointed a finger at another person saying that he was carrying explosives... and that led to the panic," Interior Minister Bayan Baker Solagh told state-owned Iraqia television.

The stampede occurred after the Kadhimiya mosque -- the burial place of Shiite imam Mussa Kazim who died 12 centuries ago -- came under mortar fire, leaving at least seven dead and 37 wounded.






| | |
| --- | --- |
| | |
| Death toll of Baghdad bridge stampede nears 1,000 | |

| | |
| --- | --- |
| | |
| Barretos Rodeo International Festival | |

| | |
| --- | --- |
| | |
| Katrina hits US Gulf Coast | |
Today's Top News
Top World News

New Orleans mayor: Katrina may have killed thousands




Baghdad bridge stampede kills 965




Talks fail, US limits some China textile imports




Oil price not to restrain China, India growth




Corruption behind coal mine woes targetted




China Southern Airlines to buy 10 Boeing 787s