Governor: Everyone must leave New Orleans
(AP)
Updated: 2005-08-31 20:49
The governor of Louisiana says everyone needs to leave New Orleans due to flooding from Hurricane Katrina. "We've sent buses in. We will be either loading them by boat, helicopter, anything that is necessary," Gov. Kathleen Blanco said. Army engineers struggled without success to plug New Orleans' breached levees with sandbags, and Blanco said Wednesday the situation was worsening, leaving no choice but to evacuate.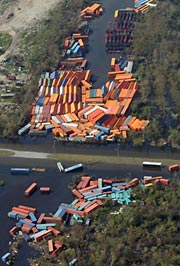 Cargo containers lay where they were tossed by Hurricane Katrina in New Orleans August 31, 2005. [Reuters]

"The challenge is an engineering nightmare," Blanco said on ABC's "Good Morning America." "The National Guard has been dropping sandbags into it, but it's like dropping it into a black hole."

As the waters continued to rise in New Orleans, four Navy ships raced toward the Gulf Coast with drinking water and other emergency supplies, and Red Cross workers from across the country converged on the devastated region. The Red Cross reported it had about 40,000 people in 200 shelters across the area.

Officials said the death toll from Hurricane Katrina had reached at least 110 in Mississippi, while Louisiana put aside the counting of the dead to concentrate on rescuing the living, many of whom were still trapped on rooftops and in attics.

Blanco acknowledged that looting was a severe problem but said that officials had to focus on survivors. "We don't like looters one bit, but first and foremost is search and rescue," she said.

To repair one of the levees holding back Lake Pontchartrain, officials late Tuesday dropped 3,000-pound sandbags from helicopters and hauled dozens of 15-foot concrete barriers into the breach. Maj. Gen. Don Riley of the U.S. Army Corps of Engineers said officials also had a more audacious plan: finding a barge to plug the 500-foot hole.





| | |
| --- | --- |
| | |
| Death toll of Baghdad bridge stampede nears 1,000 | |

| | |
| --- | --- |
| | |
| Barretos Rodeo International Festival | |

| | |
| --- | --- |
| | |
| Katrina hits US Gulf Coast | |
Today's Top News
Top World News

Baghdad bridge stampede kills 965




China-US textile talks to continue third day




Corruption behind coal mine woes targetted




Scientists plan 22nd South Pole expedition




Human rights deal with UN signals progress




Typhoon nears: batten down the hatches