China-U.S. textile talks fail -official
(Reuters)
Updated: 2005-08-31 20:26
Talks between China and the United States over China's surging textile exports ended on Wednesday with the two sides still far apart, a U.S. industry official said, Reuters reported.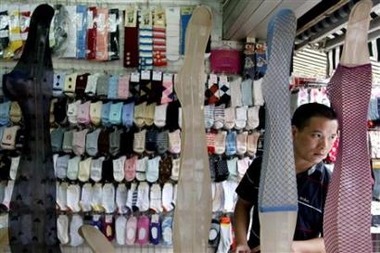 A Chinese vendor waits for customers at a clothing market in Beijing August 31, 2005. China has hardened its line in talks with the United States over its surging textile exports, dimming hopes of a deal by the time presidents Hu Jintao and George W. Bush meet in Washington in a week's time. [Reuters]


Negotiators had hoped to strike a deal so it could be blessed by presidents Hu Jintao and George W. Bush when they meet at the White House next Wednesday.

But Cass Johnson, president of the U.S. National Council of Textile Organizations, told Reuters that negotiators had not even narrowed their differences during two days of talks.

He said the American team would fly home on Thursday, while U.S. textile makers would respond to the failure of the talks by seeking to expand restrictions on Chinese garment exports.

"People thought there was a good chance of an agreement coming out of these meetings, but it's clear the Chinese government was not interested in moving off its position -- and neither was the U.S. government," said Johnson, one of a number of U.S. industry lobbyists who have been tracking the talks in Beijing.

U.S. and Chinese officials have now met four times since Washington imposed emergency curbs, known as safeguards, in May to restrain a burst of Chinese exports unleashed by the abolition of global textile quotas on January 1.

The Bush administration was already scheduled to decide on Wednesday on industry requests for emergency restrictions on six more categories of Chinese clothing and textiles, including bras, sweaters, dressing gowns and knit fabric.

Johnson said U.S. textile manufacturers had held off requesting protection in even more categories in the expectation that this week's talks would yield progress.

"So now we will begin filing new safeguard petitions next week on additional categories," Johnson said. He declined to say which lines of goods would be affected.

Chinese spokesmen were not immediately available for comment.

FRAYING AGREEMENT

China's textile exports to the United States surged 97 percent to $7.4 billion in the first six months, setting alarm bells ringing in textile-producing states and heightening wider fears about China's growing economic clout. The United States had a $162 billion trade deficit with China last year.

Negotiators had been eyeing a deal similar to one signed with the European Union on June 10 that capped growth in 10 lines of textile exports at 8 to 12.5 percent a year.

China went along because the EU would have been permitted under World Trade Organization rules to limit growth in China's textile exports to 7.5 percent a year until the end of 2008.

That deal has since run into trouble as the new quotas were quickly filled, leaving a pile-up of more than 80 million made-in-China bras, blouses and sweaters at EU customs posts.

Industry officials said earlier that the obstacles in the way of a Sino-American agreement included the length of any pact, the categories it would cover, how much Chinese exports would be allowed to grow each year and the right of the United States to impose new safeguard restrictions in the future.

Johnson said no date had apparently been set for new talks.

"What's striking is that they did not narrow their differences," he said. "It's hard to see what it's going to take for the two sides to agree."




| | |
| --- | --- |
| | |
| Flood-ravaged school has new teaching building | |

| | |
| --- | --- |
| | |
| Leshan giant buddha | |

| | |
| --- | --- |
| | |
| Explosion near Sanlitun | |
Today's Top News
Top China News

China-U.S. textile talks fail -official




China's two biggest banks sign $6B in deals




European protectionist fiasco a lesson for the US




Bridge stampede in Iraq leaves 650 dead




7,000 coal mines to close in crackdown




US crews pass dead to reach storm survivors