US crews pass dead to reach storm survivors
(AP)
Updated: 2005-08-31 09:37
U.S. rescuers along the hurricane-ravaged Gulf Coast pushed aside the dead to reach the living Tuesday in a race against time and rising waters, while New Orleans sank deeper into crisis and Louisiana's governor ordered storm refugees out of this drowning city, the Associated Press reported.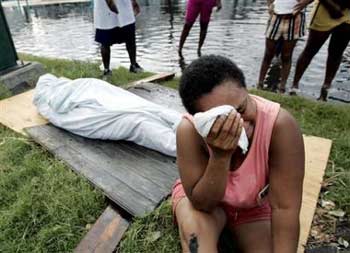 Evelyn Turner cries alongside the body of her common-law husband, Xavier Bowie, after he died in New Orleans, Tuesday, Aug. 30, 2005. Bowie and Turner had decided to ride out Hurricane Katrina when they could not find a way to leave the city. Bowie, who had lung cancer, died when he ran out of oxygen Tuesday afternoon. [AP]
Two levees broke and sent water coursing into the streets of the Big Easy a full day after New Orleans appeared to have escaped widespread destruction from Hurricane Katrina. An estimated 80 percent of the below-sea-level city was under water, up to 20 feet deep in places, with miles and miles of homes swamped.
"The situation is untenable," Gov. Kathleen Blanco said. "It's just heartbreaking."
One Mississippi county alone said its death toll was at least 100, and officials are "very, very worried that this is going to go a lot higher," said Joe Spraggins, civil defense director for Harrison County, home to Biloxi and Gulfport.
Thirty of the victims in the county were from a beachfront apartment building that collapsed under a 25-foot wall of water as Katrina slammed the Gulf Coast with 145-mph winds. And Louisiana officials said many were feared dead there, too, making Katrina one of the most punishing storms to hit the United States in decades.
After touring the destruction by air, Mississippi Gov. Haley Barbour said it looked like Hiroshima after the atomic bomb was dropped.
New Orleans Mayor Ray Nagin said hundreds, if not thousands, of people may still be stuck on roofs and in attics, and so rescue boats were bypassing the dead.
"We're not even dealing with dead bodies," Nagin said. "They're just pushing them on the side."
The flooding in New Orleans grew worse by the minute, prompting the evacuation of hotels and hospitals and an audacious plan to drop huge sandbags from helicopters to close up one of the breached levees. At the same time, looting broke out in some neighborhoods, the sweltering city of 480,000 had no drinkable water, and the electricity could be out for weeks.
With water rising perilously inside the Superdome, Blanco said the tens of thousands of refugees now huddled there and other shelters in New Orleans would have to be evacuated.
She asked residents to spend Wednesday in prayer.
"That would be the best thing to calm our spirits and thank our Lord that we are survivors," she said. "Slowly, gradually, we will recover; we will survive; we will rebuild."

| | |
| --- | --- |
| | |
| Barretos Rodeo International Festival | |

| | |
| --- | --- |
| | |
| Katrina hits US Gulf Coast | |

| | |
| --- | --- |
| | |
| Japanese PM launches general election campaign | |
Today's Top News
Top World News

European protectionist fiasco a lesson for the US




7,000 coal mines to close in crackdown




US crews pass dead to reach storm survivors




Official lauds KMT role in anti-Japan war




Nuke talks to resume in week of Sep. 12




Itinerary for President Hu Jintao's US visit