Report: Asian militants sharing bomb designs
(AP)
Updated: 2005-08-31 09:09
Al-Qaida's Southeast Asian ally is sharing bomb-making expertise with Muslim militants in the Philippines, providing at least nine explosive designs and eight chemical recipes to help ragtag insurgents become more lethal, according to government reports.
The results: 116 people killed in the country's worst terror attack, a series of high-tech explosions and close cooperation among local and foreign militants using the southern Philippines as a training ground following the loss of al-Qaida camps in Afghanistan.
While U.S.-backed offensives have overrun established camps in the Mindanao region in the last couple of years, training by al-Qaida-linked Jemaah Islamiyah's Indonesian operatives has continued on a limited basis with militants setting up classes and plotting attacks, police and military intelligence officers told The Associated Press.
One Philippine security official said Mindanao in the southern part of the country "is like a terrorist academy" with trainees taught how to make bombs, plant them, then set them off in test missions designed to help militants perfect their techniques to complete the course.
Jemaah Islamiyah militants appear to be continuously testing new designs and explosives mixtures, said officials, who spoke on condition of anonymity because of the secretive nature of the information. Previously, many Philippine militants, especially Abu Sayyaf rebels, had relied on simple hand and rocket-propelled grenades to attack civilian targets.
Investigators looking into Sunday's bombing of a passenger ferry while it was boarding on Basilan island, injuring 30 people, said it appeared to be designed more to sow panic than kill, but that it was too early to speculate on the design.
A number of recent bombs ! pieced together from fragments found at attack sites or recovered from Philippine rebel hideouts ! carry Jemaah Islamiyah's signature: the use of electronics, including Indonesian-designed integrated circuit boards, and cell phones that allow more efficiency and flexibility as triggers, according to several investigation reports seen by AP.
Making detection difficult, the attackers use mundane items ! a TV set, egg cartons, a tin of cookies, even a tube of toothpaste, a roll-on deodorant or shampoo bottle ! to hide the bombs and their components.
More powerful chemical mixtures not used before by local militants also have been detected at bombing scenes in recent years, the reports said.
The new mixtures give the militants more leeway in attaining a particular effect. Some spark fires to scare extortion targets; others are designed to kill and destroy.
Authorities said they have detected evidence of al-Qaida and Jemaah Islamiyah "training and technology transfer" in bomb devices for the past four or five years.
Such international cooperation and terror technology exchanges is not entirely new.
When police in 1995 raided the Manila apartment of Ramzi Yousef, the convicted mastermind of the 1993 bombing of the World Trade Center in New York, they found several juice bottles filled with the same powerful explosives used in that attack and a brand of quartz alarm clock later used in a bombing in Iraq.
Most of the bombs used in attacks in the Philippines and Indonesia are believed to have been designed by Jemaah Islamiyah's top experts, including Pitono, a Bali bombing suspect and electronics expert also known as Dulmatin, the reports said.
The army has been hunting for Dulmatin, along with at least nine other Indonesian militants, in the region of Mindanao, where he ii thought to have joined the group of Abu Sayyaf chieftain Khaddafy Janjalani, the military said.
Philippine authorities have detected mostly cell phone-triggered explosives while poring over bloody scenes of attacks by the Abu Sayyaf and the Moro Islamic Liberation Front in the last five years, according to investigation reports.
The Indonesians also have passed on the formulas of at least eight powerful explosive chemical mixtures, the reports said, and authorities in both countries have found identical bombs rigged the same way in the metal frames of two strikingly similar bicycles.
Local militants ! many young peasants with limited schooling ! appear to be struggling with the new technology. Blunders have fouled up some attacks, including a homemade bomb that prematurely exploded in a backpack two years ago, killing the rebel toting it.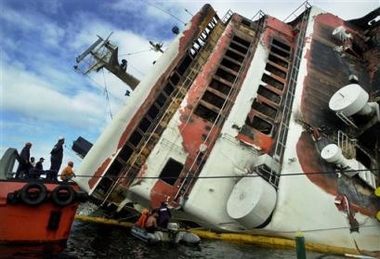 The burnt Superferry 14 lies on it's starboard side as rescuers search for missing people in Mariveles, Bataan province northwest of Manila in this Sunday Feb. 29, 2004 file photo. An 11-pound TNT firebomb crammed in a TV set that went off on a passenger ferry in Manila Bay last, killing 116 people in the Philippines' worst terror attack, employed a Jemaah Islamiyah bomb design that could be set off by an alarm clock or a cell phone. [AP/file]

Filipino militants have not yet undertaken suicide missions, although there is evidence that they have acquired knowledge to make body-worn explosives and truck and car bombs. Car bombs used in an attack at Manila's airport in December 2000 and an airport in southern Cotabato city in February 2003 appear to have been set off by timers, security officials said.

"We call them `baby al-Qaidas,' " said Ric Blancaflor, executive director of the government's anti-terrorist task force. "We have no reason to believe that they are already experts."

An 11-pound TNT firebomb crammed in a TV set that went off on a passenger ferry in Manila Bay last year, killing 116 people in the Philippines' worst terror attack, employed a Jemaah Islamiyah bomb design that could be set off by an alarm clock or a cell phone.

The clock was set to trigger the bomb in seven hours but it went off sooner, leading investigators to believe that a cell phone was used to trigger the blast, the reports said.

Philippine authorities arrested and charged the suspected attacker ! Habil Dellosa, a Filipino Muslim convert who authorities say is an Abu Sayyaf member trained by Indonesian militants.

Three bombs, concealed in empty cell phone cases and found in a mall in southern General Santos city in March 2004, used new Jemaah Islamiyah-designed electronic timing circuits and small amounts of new explosive mixtures using TNT powder and potassium chlorate that indicated the militants were testing its features, authorities said.

Authorities believe Abu Sayyaf trainees crafted the bombs as a graduation test from explosives training. The mall had received an Abu Sayyaf extortion letter, a security official familiar with the incident told AP.

Guerrillas have used common household items to disguise their new lethal weapons. A mortar time bomb that killed a child and wounded eight others in a bus terminal in southern Davao city on Feb. 14 was concealed in a hole punched through a stack of egg trays topped by real eggs.

Other bombs were hidden in a Malaysian biscuit can, gift boxes and ordinary bags. A pink plastic lunch box with flower designs, found in a public market in southern Cotabato city, contained a small mortar round that could have gone off. Police found bomb parts in toothpaste tubes and roll-on deodorant containers in a raided Manila rebel hideout early this year.




| | |
| --- | --- |
| | |
| Barretos Rodeo International Festival | |

| | |
| --- | --- |
| | |
| Katrina hits US Gulf Coast | |

| | |
| --- | --- |
| | |
| Japanese PM launches general election campaign | |
Today's Top News
Top World News

7,000 coal mines to close in crackdown




Official lauds KMT role in anti-Japan war




Nuke talks to resume in week of Sep. 12




Itinerary for President Hu Jintao's US visit




Hundreds feared dead in Katrina's wake




WHO praises China signing anti-tobacco pact