Gwyneth offers marital advice for Brad Pitt
(AP)
Updated: 2005-08-31 08:51
Gwyneth Paltrow has some after-the-fact advice for her ex-fiance, Brad Pitt.
The Oscar-winning actress, whose engagement to Pitt was called off in 1997, tells Time magazine that the "Troy" star's split from Jennifer Aniston could have been much smoother had the twosome simply clammed up about their relationship.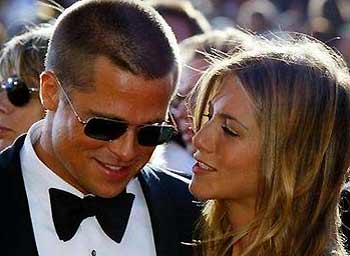 Pitt (L) and Aniston, once annointed Hollywood's golden couple, have filed to formally end their four-year marriage, court papers showed on August 22, 2005. [Reuters]


"It would have been a lot easier on Brad Pitt and Jennifer Aniston now if they had not talked to the press about each other and everything to begin with," Paltrow said.

Paltrow, 32, has a 15-month-old daughter, Apple, with Coldplay frontman Chris Martin, whom she wed in 2003.

"Our marriage is between us," she said. "If we decide to continue being together or not, it's our business."

Gwyneth Paltrow and Chris Martin with their baby [AP]

The "Shakespeare in Love" star went through her share of extreme media coverage when she and Pitt were an item in the 1990s.

"I learned my lesson at 24," Paltrow said, explaining why privacy is so important to her today.

That lesson endured through her later relationship with Ben Affleck and continues with Martin, with whom she is rarely photographed.

"When I presented at the Oscars last year, everyone would say to me, 'Where's your husband? Is there trouble in the marriage?' " Paltrow said. "And I was like, Why on earth would I bring my husband?"

These days, Paltrow seems content to steer clear of many of Hollywood's hottest roles and events. Instead, she focuses on her family life.

Paltrow's latest film, "Proof," is due to open Sept. 16. Anthony Hopkins and Jake Gyllenhaal also star.

Next up, she'll star in "Running with Scissors" opposite Annette Bening. The film is slated for a 2006 opening.