7,000 coal mines to close in crackdown
By Fu Jing (China Daily)
Updated: 2005-08-31 05:49
In the face of a rising death toll this year, China has ordered one-third of its coal mines to suspend production by the end of this year because they are unsafe.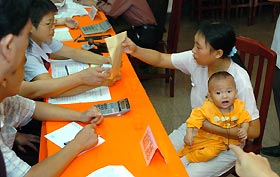 Liang Zhangling, wife of a miner killed in a flooding accident on August 7 in Daxing coal mine in Xingning, Guangdong Province, receives 200,000 yuan (US$24,700) in compensation from government officials yesterday. The accident killed 123 miners. [Xinhua]

Industry insiders said the suspension will leave a huge number of miners jobless, but coal supply will only be slightly affected because most of the pits involved are small.

The State Administration of Coal Mine Safety publicized yesterday the first group of 1,324 mines that are required to stop production and meet national safety standards. If they do not, they will be shut down permanently.

"The number is not all of the mines on the suspension list; the total will reach 7,000 soon," the administration's press officer, surnamed An, told China Daily.

Administration figures indicated that China has about 24,000 coal mines, which satisfy 70 per cent of the country's annual energy demand. However, because of the transient nature of mining employment, no official statistics on the number of miners are available.

An said the responsibility to monitor the suspensions and supervise the safety improvement of the 7,000 mines will fall on local governments. "The central government will soon unveil regulations which require provincial and local governments to play a key role in safeguarding coal mine safety," she said. "Otherwise, they will be severely punished."

An said a new central government system for monitoring coal mines will be announced today, which includes detailed measures to prevent coal mine disasters.





| | |
| --- | --- |
| | |
| Soaring tide of Qiantang River | |

| | |
| --- | --- |
| | |
| Li Ao in Peking University | |

| | |
| --- | --- |
| | |
| Heavy rainfall hits Lianyungang | |
Today's Top News
Top China News

Latest coal-safety effort 'not effective'




176 flights cancelled for military exercise




Indonesia urged to discipline its navy




N.Korea asks UN to end humanitarian aid




Texans fleeing Rita stalled by traffic




EU backs down on Iran under pressure