Itinerary for President Hu Jintao's US visit
By Chong Zi (China Daily)
Updated: 2005-08-31 05:49
Explaining China's peaceful growth to the American politicians and public will top President Hu Jintao's agenda when he visits the United States from September 5 to 8.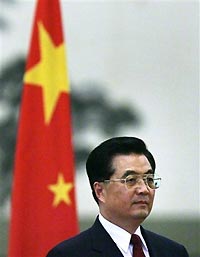 Chinese President Hu Jintao listens to the national anthem during a welcome ceremony inside the Great Hall of the People in China's capital Beijing August 30, 2005. [Reuters]

"This will be conducive to the development of Sino-US relations and China's relationships with the rest of the world," He Yafei, director of the Department of North American and Oceanian Affairs, said at a news briefing yesterday.

It will be Hu's first State visit to the US after he became president in 2003. He will meet US President George W. Bush and legislators in Washington DC and business people in Seattle, and deliver a speech at Yale University in New Haven.

Also on the list of areas of concern for Hu and Bush may be trade, Taiwan, energy and nuclear issue on the Korean Peninsula.

China's favourable balance of trade with the US derives from different economic structures in the two countries. The two economies supplement and benefit each other instead of competing, and the US should loosen its grip over its exports, especially high-tech products, to China, He said.

After his US trip, President Hu will travel to Canada and Mexico from September 8 to 13, and back to New York on September 14 to attend the World Summit and other activities in celebration of the 60th anniversary of the United Nations.

Hu will wrap up his tour on September 16 at the UN in a show of China's support for the world body and multilateralism.

At yesterday's news briefing, He also disclosed that the fourth round of Six-Party Talks on Korean Peninsula nuclear issue will be resumed in the week of September 12.




| | |
| --- | --- |
| | |
| Leshan giant buddha | |

| | |
| --- | --- |
| | |
| Explosion near Sanlitun | |

| | |
| --- | --- |
| | |
| Tornado occurs off the waters of Zhejiang | |
Today's Top News
Top China News

7,000 coal mines to close in crackdown




Official lauds KMT role in anti-Japan war




Nuke talks to resume from Sept 12-China




WHO praises China signing anti-tobacco pact




Itinerary for President Hu Jintao's US visit




Hundreds feared dead in Katrina's wake