Chinese, US officials discussing apparel quotas
(chinadaily.com.cn)
Updated: 2005-08-30 15:51
Chinese and U.S. negotiators look set to make compromises in their bid to reach a deal resetting quotas of importing inexpensive Chinese apparel to the U.S. market.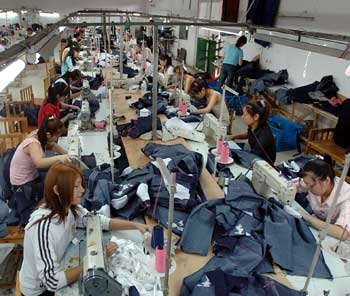 Women workers sew up garments at a factory in Wuhu, East China's Anhui Province August 28, 2005. [newsphoto]
The talks, being held in Beijing, is the fourth round of bilateral discussions on textiles trade, which not only concerns Chinese exports, but also has a bearing on American importers, retailers and consumers.
Ever since China and EU reached a deal restricting Chinese apparel sales to Europe in June, some European countries, including Germany, the Netherlands and Nordic countries, are amounting criticism of the restrictions, which have made life of the small retailers and many consumers there more difficult.

It is believed China and the United States trade officials will most probably reach a deal restraining China's textile exports in time for a meeting between presidents Hu Jintao and George W. Bush, who will arrive in Washington D.C. on September 7.
The two countries¡¯ negotiators, who failed to reach an agreement when they met in San Francisco earlier this month, are hoping to find enough common ground to clinch a deal during a fourth round of talks that began Tuesday in Beijing.
"There is increased likelihood that China and the United States can make substantial progress or even sign an agreement during the fourth round of talks," the International Business Daily quoted Cao Xinyu, Vice Chairman of the China Chamber of Commerce for Import and Export Textiles, as saying.
Prospects for a deal had improved as differences sides had narrowed from both sides, China Securities Journal said in a front-page column.
Consensus could be reached this week, with a final deal signed in Washington, the paper cited industry experts as saying.
Washington wants to negotiate a comprehensive agreement governing Chinese clothing imports through the end of 2008, when WTO safeguard measures that can be invoked expire. Beijing is believed to favor a shorter pact, perhaps of only one year, the Reuters reported on Tuesday.
The Bush administration is scheduled to decide on Wednesday on industry requests for emergency restrictions on six more categories of Chinese clothing and textiles, including bras, sweaters, dressing gowns and knit fabric.
Importers and retailers in the United States, who say that current curbs raise prices and hurt consumers, want a pact allowing for growth of at least 20 to 25 percent.

| | |
| --- | --- |
| | |
| Leshan giant buddha | |

| | |
| --- | --- |
| | |
| Explosion near Sanlitun | |

| | |
| --- | --- |
| | |
| Tornado occurs off the waters of Zhejiang | |
Today's Top News
Top China News

Chinese, US officials discussing apparel quotas




Desperate rescues in US after hurricane




China's yuan makes slow gains on the market




President Hu: Gender equality crucial




Special grants offered to poor students




EU takes steps to unblock China textiles