China's yuan makes slow gains on the market
(chinadaily.com.cn/Agencies)
Updated: 2005-08-30 11:29

China's central bank ruled out any more abrupt ups and downs in the value of its currency, the yuan, pouring cool water on further currency speculations.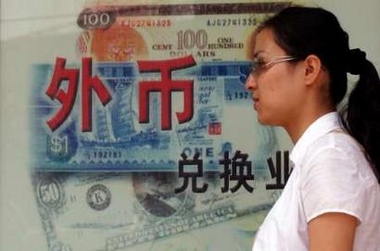 A Chinese woman walks past a poster advertising a foreign exchange business at a bank in Shanghai August 11, 2005. China's yuan strengthened further to a new post-revaluation high versus the dollar on Thursday, a day after the central bank revealed the foreign currencies in its reference basket. [Reuters]

The yuan, also called Renminbi, on Monday climbed to its highest level since its July 21 revaluation, as the comments by Ma Delun, a deputy governor of the People's Bank of China, suggested Beijing banking authorities will allow the yuan appreciate in the foreign exchange market in Shanghai.

"Right now we often hear corporates and all sorts of people asking when is the next time the foreign exchange rate will be adjusted," Ma said.

"I'd like to tell everyone, the next change in the yuan exchange rate is now happening everyday, every hour the changes are happening," Ma said in a speech given over the weekend at a conference in the southern Chinese city of Shenzhen.

The yuan rose to 8.0954 to the U.S. dollar on Monday, its highest close since July 21, when the People¡¯s Bank of China revalued the currency at 8.11 yuan to the U.S. Dollar, up about 2.1 percent from the previous rate of 8.28 yuan. The July 21 revaluation also cut the yuan's decade-old peg to the U.S. dollar, linking it instead to a basket of currencies of China's main trading partners, including the U.S., Japan, the EU and South Korea.