N.Korea says not ready for nuclear talks
(Reuters)
Updated: 2005-08-29 07:45
PYONGYANG - North Korea says it is not ready to rejoin six-party talks on its nuclear weapons program, Thailand said on Sunday, which if true would test the world's patience and throw the talks process into doubt, Reuters reported.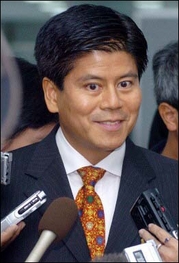 Thai Foreign Minister Kantathi Suphamongkhon speaks to journalists after the Association of Southeast Asian Nations (ASEAN) foreign ministers meeting in July 2005. [Reuters]

Japan and host China, partners in the deadlocked negotiations along with the United States, Russia and the two Koreas, said on Friday that the talks were on for this week, but no exact date had been fixed.

China's top negotiator, Wu Dawei, flew to Pyongyang on Saturday and was expected to stay until Tuesday.

The regional powers hope to persuade North Korea to dismantle its nuclear weapons programs in exchange for security guarantees and economic assistance.

"The North Korean foreign minister told me what he had in mind, what had caused North Korea not to be able to participate in the six-party talks scheduled for Monday," visiting Thai Foreign Minister Kantathi Suphamongkhon told reporters.

"...The North Koreans said that they are willing to dismantle their nuclear weapons as long as there is trust among the parties concerned. They say they are ready to dismantle and go back to the NPT (Non-Proliferation Treaty), allowing the International Atomic Energy Agency to step in, as long as there is trust among parties.

"...I hope that the talks can resume at least by mid-September or within September at the latest," he added, without specifying what gave him that hope.

North Korea threw out IAEA inspectors at the end of 2002 and withdrew from the NPT in January 2003.





| | |
| --- | --- |
| | |
| Tornado occurs off the waters of Zhejiang | |

| | |
| --- | --- |
| | |
| Taiwan experts in Sichuan for panda selection | |

| | |
| --- | --- |
| | |
| Police drill in Guizhou | |
Today's Top News
Top China News

Economists call for action to avoid slowdown




N.Korea says not ready for nuclear talks




Hearing scheduled for tax threshold




Sexual harassment against women outlawed




Delegates discuss panda practicalities




China ratifies WHO anti-tobacco treaty