Economists: Zhu Rongji's pro-active policy once more
(AFP)
Updated: 2005-08-29 07:04
SHANGHAI- While China has spent two years battling to rein in its runaway economy, senior economists and government advisers now warn the economic powerhouse needs fiscal spending if it is to avoid a looming slowdown, AFP reported.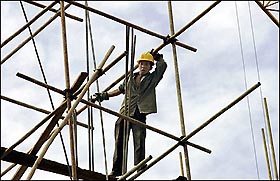 A construction worker walks high on top of scaffolding at a construction site in Beijing, 17 August 2005. [AFP]

Despite impressive headline numbers, there are big underlying problems which need to be confronted, they say.

They echo calls to relax China's fiscal stance, dust off the policies of former premier Zhu Rongji and start issuing a greater number of treasury bonds to finance public works, helping to mitigate what they say is a dangerously slowing economy.

Cooling import growth, worryingly low inflation and shrinking industrial profits all suggest the expansion which began in earnest three years ago is under threat said He Fan, a researcher with the Chinese Academy of Social Sciences (CASS) and adviser to the government on economic matters.

"If there was only one of these three signals, we should hesitate to say the economy is slowing down but all three are happening together so we are quite confident in saying that there is a danger of a slowdown," He said.

Yet first half gross domestic product data and July indicators clearly underlined there was little real statistical evidence of a slowdown. The debate about economic stimulus, it seems, remains just that.

The headline numbers continue to shine and the government has revealed little about future policy direction, preferring to stick to its mantra of pursuing "a prudent fiscal and monetary policy".





| | |
| --- | --- |
| | |
| Explosion near Sanlitun | |

| | |
| --- | --- |
| | |
| Tornado occurs off the waters of Zhejiang | |

| | |
| --- | --- |
| | |
| Taiwan experts in Sichuan for panda selection | |
Today's Top News
Top China News

Economists: Zhu Rongji's pro-active policy once more




N.Korea says not ready for nuclear talks




Hearing scheduled for tax threshold




Sexual harassment against women outlawed




Delegates discuss panda practicalities




China ratifies WHO anti-tobacco treaty