Economic ties 'key to Sino-Japanese ties'
By Qin Yuding (China Daily)
Updated: 2005-08-25 05:55
Sino-Japanese relations may be at a low ebb politically, but on the economic front ties are developing apace.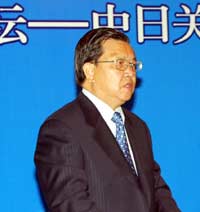 Long Yongtu, secretary-general of the Boao Forum for Asia adresses the Beijing-Tokyo Forum in Beiing August 24, 2005. [newsphoto]

That was the view put forward by Long Yongtu, secretary-general of the Boao Forum for Asia, yesterday in Beijing.

"Economic ties are increasing and deepening even though political relations are experiencing some turbulence," Long said, noting that bilateral trade volume reached a record high last year.

"I think this is grounds for optimism. Economic ties will become stronger and stronger," he said.

Citing the revival of the Japanese economy and China's solid annual growth of 8 to 9 per cent, Long said the current situation bodes well for future growth of economic relations.

Long and his co-panellists discussed "the problems and prospects of Sino-Japanese ties" during a two-day Beijing-Tokyo Forum, which concluded yesterday in the Chinese capital.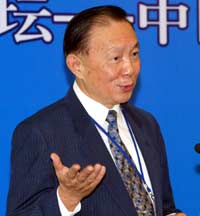 Xu Dunxin, former Chinese ambassador to Japan speaks at the Beijing-Tokyo Forum in Beijing August 24, 2005. [newsphoto]
Long said he strongly opposed politicizing economic ties, and called on the two sides to treasure the current hard-earned business ties.
Foreign direct investment from Japan in China is increasing dramatically, he said, a shift expected to eventually smooth bilateral political ties because it will lead to increasing numbers of Japanese people working and living in China and coming to better understand the country.
"Economic co-operation should function as a mediator and buffer when diplomatic relations are in trouble and help promote comprehensive communication between the two sides," said Long.
According to Long, as major oil buyers, China and Japan share common interests, and the oil sector is one where more progress can be made.

| | |
| --- | --- |
| | |
| Chimpanzee suffers from smoking addiction | |

| | |
| --- | --- |
| | |
| The tide is high but they're holding on | |

| | |
| --- | --- |
| | |
| China, Russia military drills stage landing | |
Today's Top News
Top China News

EU, China begin talks on textile row




Joint forces storm beaches at climax of drills




Taiwan students on mainland given level fees




Japan, China to jointly develop 4G mobile




China says market to decide yuan's value




CCTV sends record invitations for festival