Fraud charges filed against mother of Michael Jackson's accuser
(AP)
Updated: 2005-08-24 16:05
LOS ANGELES (AP) _ The woman whose son accused Michael Jackson of child molestation was charged with welfare fraud in a complaint alleging she collected nearly $19,000 while making false claims she was indigent.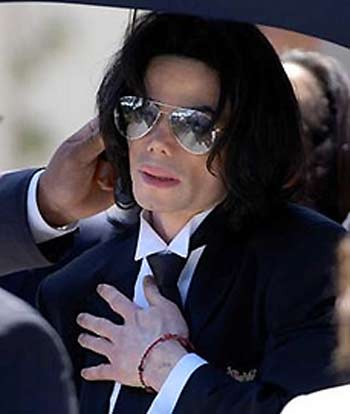 Pop star Michael Jackson leaves the Santa Barbara County Courthouse after being found not guilty on all ten counts of child molestation in Santa Maria, California, June 13, 2005. [Reuters]
The five charges filed Tuesday against the woman include four felony counts of "perjury by false application for aid" and one count of "aid by misrepresentation," a violation of the state welfare code.
Each perjury charge carries a potential sentence of two to four years in prison. The code violation carries a potential sentence of 16 months to three years.
The district attorney's office recommended bail of $50,000 for the woman, who is scheduled to surrender to authorities and be arraigned September 7.
At Jackson's trial, which ended in his acquittal, she invoked her Fifth Amendment protection against self-incrimination and refused to testify about the welfare matter. She has an unlisted phone number and could not be reached Tuesday.
The Associated Press is withholding her name to protect the identity of her son.
Jackson's lawyers presented evidence during his trial that she and her family had received a $150,000 settlement in a 2001 lawsuit against a department store at a time when she was claiming to be indigent. They also showed the woman was receiving money from her boyfriend to pay the rent on her apartment.
The complaint filed by the Los Angeles County District Attorney's office alleged that the woman hid from authorities the fact that she had received the settlement and also failed to report the receipt of $637 for payment of her rent in January 2003.
It said the payment occurred in February 2003 but was not discovered until a social services investigator received a tip from a private investigator in February 2005, just before the Jackson trial began.
The mother of the accuser was a key witness for the prosecution against Jackson. Many jurors said her lack of credibility on the witness stand was a major factor in their verdicts of not guilty.
Jackson lawyer Tom Mesereau said of the welfare-related charges, "In light of the evidence at the trial, I'm not surprised. This is certainly warranted."
District attorney's spokeswoman Sandi Gibbons said the charges send a message that, "You're taking taxpayers' money when you steal from the welfare system. Whether it's a nickel or a lot of nickels, you can't use the welfare system as your personal piggy bank."
The complaint said that between November 15, 2001 and March 31, 2003, the woman received $18,782 in welfare aid to which she was not entitled.
| | |
| --- | --- |
| | |
| More educated, more DINK? | |

| | |
| --- | --- |
| | |
| Cui Jian: Real, Live and Coming to Beijing | |

| | |
| --- | --- |
| | |
| Only 4% Chinese women consider themselves beautiful | |
Today's Top News
Top Life News

White House: Bush, Hu Jintao to meet September 7




Poll: China-Japan ties need mending




Sino-Russian exercise begins in earnest




Peruvian plane crashes, at least 37 die




Rise in pay sparks income tax review




China, EU trying to resolve textile crisis