Maradona adds more detail on "Hand of God" goal
(AP)
Updated: 2005-08-24 09:07
BUENOS AIRES (AP) - Former soccer star Diego Maradona has acknowledged on Argentine television that he struck the ball with his hand in the infamous "Hand of God" goal against England in the 1986 World Cup quarter-finals.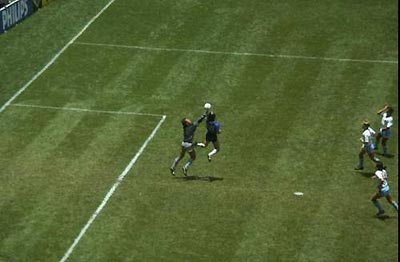 Maradona hand of god goal against England in World Cup 1986

Maradona has previously admitted to the handball goal, but gave his most detailed comments yet during the second weekly instalment of his locally broadcast talk show Monday. Maradona called the tipped goal "something that just came out of me. It was a bit of mischief."

He said he was unable to reach the ball for a header because England goalkeeper Peter Shilton "was very tall. He (Maradona) didn't see anything, and a teammate told him" afterward what happened.

Maradona, who was Argentina's captain, said he quickly realized the referee allowed the goal but none of his teammates rushed to celebrate with him - themselves disbelieving.

"I was waiting for my teammates to embrace me and no one came. I told them, come hug me or the referee isn't going to allow it."

Replays clearly showed the foul, but the goal helped propel Argentina to a 2-1 victory. Maradona also scored the second goal, which has been dubbed the "Feet of a God" goal, and which FIFA declared to be the greatest ever in World Cup competition.

Maradona dribbled half the length of the field, dodging and outrunning nine English players.

Argentina went on to win that World Cup in Mexico, and the victory over England was cheered by Argentines after their stinging defeat at the hands of the British in a 1982 war for the South Atlantic's Falkland Islands, known here as Las Malvinas.

In his 20-year career before retiring in 1997, Maradona starred at Argentinos Juniors and Boca Juniors and in Europe. He also led Argentina to the 1990 World Cup final and won Italian and Argentine league titles. In 2000, FIFA chose him and Pele as the best players in soccer history.

Maradona's career, however, was filled with negatives as well as positives.

In 1991, he failed a drug test and was banned for 15 months.

Maradona's new TV show - called "The Night of 10" in reference to his famous number - comes only weeks after he was appointed vice-president of his beloved Boca Juniors club. Pele was one of his first guests on last week's inaugural show, and Argentina's NBA star, Manu Ginobili, who helped the San Antonio Spurs to two championships in three years, was on Monday's program.

The Boca job, coupled with his prime-time television debut, marked a wholesale return to the limelight for Maradona since he retired from soccer amid cocaine addiction and health problems.

Maradona, 45, has recently dropped weight, unveiling a slimmer profile after stomach stapling surgery. He also has been jetting around the world, making appearances as a broadcast commentator at European soccer matches, and taking part in celebrity charity events. At least one movie documentary on his life is also in the works.

| | |
| --- | --- |
| | |
| IBF World Badminton Championships | |

| | |
| --- | --- |
| | |
| Bao Chunlai advances at IBF Badminton worlds | |
Today's Top News
Top Sports News

Taiwan students on mainland given level fees




Joint forces storm beaches at climax of drills




Japan, China to jointly develop 4G mobile




'Pragmatic solution' urged for textile quotas




CCTV sends record invitations for festival




Economic ties 'key to Sino-Japanese ties'