Sino-Russian exercise begins in earnest
By Sun Shangwu (China Daily)
Updated: 2005-08-24 05:45
QINGDAO: Chinese and Russian troops launched a simulated naval blockade yesterday morning, sending 10 military vessels and more than 20 aircraft to take part in their first-ever joint military exercise dubbed "Peace Mission 2005."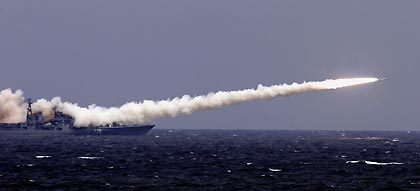 A Russian destroyer fires missiles during a China-Russia joint military exercise off China's Shandong Peninsula August 23, 2005. [newsphoto]

Chinese hardware included three destroyers, three frigates, two submarines and more than 20 battle planes of various types, while Russia contributed the submarine-hunting ship Marshall Shaposhnikov, the missile-guided destroyer Burny, a KA-27 helicopter and an A-50 long-range early warning aircraft .

The war game began at 11:00 am with two groups of Chinese jet fighters flying across the sky above the waters off East China's Shandong Peninsula. They fired air-to-air missiles to intercept mock rival aircraft and took control of the skies over the exercise zone.

The joint naval fleet, comprised of destroyers, frigates and anti-submarine vessels from the two navies, then simulated a submarine hunt. Helicopters dropped anti-sub torpedoes and destroyers fired depth charges.

Under the guidance of early warning aircraft, a Chinese submarine launched a missile to attack supposed rival military vessels. This was followed by a bombardment from jet fighters and bombers.





| | |
| --- | --- |
| | |
| Chimpanzee suffers from smoking addiction | |

| | |
| --- | --- |
| | |
| The tide is high but they're holding on | |

| | |
| --- | --- |
| | |
| China, Russia military drills stage landing | |
Today's Top News
Top China News

EU, China begin talks on textile row




Joint forces storm beaches at climax of drills




Taiwan students on mainland given level fees




Japan, China to jointly develop 4G mobile




China says market to decide yuan's value




CCTV sends record invitations for festival