Israelis leave 20 of 21 Gaza settlements
(AP)
Updated: 2005-08-22 08:39
Israeli bulldozers tore down red-roofed villas and scattered debris across green lawns Sunday, virtually erasing Jewish settlements within a few hours and delivering a graphic message that Israelis will no longer live in the Gaza Strip.
The demolitions came as the army announced that 20 of the 21 Jewish settlements in Gaza were emptied by Sunday evening, reported AP.
In the West Bank, Israeli security forces skirmished with some of the thousands of ultranationalists defending two northern settlements amid fears they may use weapons when troops begin evicting residents, most likely Tuesday.
Dozens of settlers swarmed troops setting up a staging area near the Sanur settlement in the West Bank, slashing tires of military vehicles and exchanging blows with soldiers in a prelude to what could be the most difficult mission of Prime Minister Ariel Sharon's "disengagement" plan.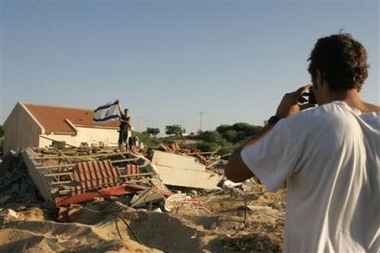 An Israeli security officer in civilian clothes takes a snapshot of a colleague holding an Israeli flag on top of a demolished house in the Jewish settlement of Peat Sadeh, southern Gaza Strip, Sunday, Aug. 21, 2005. Israeli bulldozers leveled homes in three Gaza settlements Sunday, reducing once-thriving villages within hours to refuse dumps and sealing the fate of Jewish settlement in the coastal strip. The military plans to raze all Gaza settlement houses within two weeks. [AP]

Sharon denounced the violent resisters during a Cabinet meeting that approved the final phase of the pullout. He also accused settler leaders of exploiting the anguish of their people to push their political agenda, delivering his harshest criticism of his onetime friends and allies.

"The things they did were acts of hooliganism and in my opinion, borderline criminal," Sharon said of the protesters. "This doesn't just reflect on them but on those who sent them and incited them and directed them."

Moving more swiftly than planned, officials hope to complete the removal of settlers from Gaza and the northern corner of the West Bank by the end of the week in an operation that a U.S. envoy predicted would reinvigorate Mideast peace efforts.

"The United States views the Israeli disengagement from Gaza as an important opportunity ... to take further steps forward toward a better future for Israelis and Palestinians," said Assistant Secretary of State David Welch, the first senior U.S. official to visit the coastal strip since Palestinian militants killed three Americans in a diplomatic convoy two years ago.

Troops in overwhelming numbers brushed past barricades and steel gates Sunday to enter four Gaza settlements and escort teary residents to buses. Settlers bid farewell to communities they built over decades, repeating anguishing scenes that have gripped Israelis almost daily for a week.

Yossi Harush, a career army officer, and his family built a mock cemetery in the Atzmona settlement with cardboard tombstones of the Jewish people's enemies across the ages: Pharoah, Titus, Haman, Hitler and Yasser Arafat.

"Our feeling is like this is the start of a holocaust," said Ruthie Harush, a mother of seven. "Didn't the Holocaust begin with Hitler saying he was a democratic leader and soldiers saying they only carried out orders?"

The final Gaza evacuation was to come Monday at Netzarim, a community of 400 people just south of Gaza City that was one of the first Israeli outposts built in the coastal strip.

Huge D9 bulldozers, many driven by Israeli Arabs, tore down homes in Nissanit, Dugit, Peat Sadeh and Ganei Tal. They needed just five minutes to plow through the whitewashed walls of a home, and reduced entire villages to garbage dumps in less than a day. In Ganei Tal, some 40 houses came down in an hour.

The claws of excavators ripped apart red tiles and wooden beams like matchstick structures. Broken tables, smashed pipes, toy trucks and children's clothes littered the streets.

A tractor driver, Abu Rashed Ali, 42, said the settlers shouldn't have been there. "The mistake was on the part of the state" for sending the settlers to Gaza, and "now it is paying with land and people," he said.

Cranes lifted prefabricated houses onto flatbed trucks to be taken away to Israel, possibly for temporary housing for displaced settlers.

Mounds of rubble and abandoned belongings along paved streets were reminiscent of Israel's large-scale house demolitions in Palestinian communities during the recent years of Israeli-Palestinian fighting.

"They should have left a long time ago. But I still fear for the future because Israel is still everywhere around Gaza, and in the West Bank, too,"said Sufian Jarada, a Palestinian college student.

Victor Bargil, a senior Defense Ministry official, said he expected all Gaza houses to be demolished within two weeks ¡ª half the time predicted last week by Defense Minister Shaul Mofaz. The army also must dismantle its installations before the Palestinian Authority takes control, probably within the next month.

The Israelis and Palestinians have not completed an agreement on what to do with the demolition rubble. Israel has agreed in principle to put up $50 million for removing the debris, part of which is dangerous material like asbestos that is expected to be buried outside the Gaza Strip.

Palestinian officials plan to use some of the rubble for building roads. They say they will use the cleared settlement land to put up big apartment buildings needed to alleviate a severe housing shortage for Gaza's 1.3 million Palestinians.

In the West Bank, dozens of Jewish extremists scuffled with Israeli soldiers outside Sanur, an extremist stronghold marked for evacuation in the next few days.

Settlers climbed on two armored bulldozers brought in to clear land in preparation for the pullout. About a dozen soldiers tried to push back the protesters.

Witnesses said settlers hit soldiers, who struck back. The settlers also slashed the tires of an army jeep and attacked a TV cameraman, the witnesses said.

Some 200 police arrived and dispersed the settlers. Ten policemen and soldiers suffered light injuries in the melee and two people were arrested.

Hundreds of soldiers and police were being flown by helicopters from the Re'im camp in the south to the West Bank for the evacuation of Sanur and nearby Homesh. Residents of two other small West Bank settlements slated for removal already left their homes voluntarily.

Military officials cited intelligence reports saying some of the estimated 2,000 extremists who moved into Sanur and Homesh had weapons and might be ready to use them. The army said it was considering using armed troops for the evacuations there, unlike in Gaza where unarmed security forces carried out settlers.

"A lot of red lines were crossed here, all the laws were broken. We will operate with decisiveness," said Lt. Gen. Dan Halutz, the army chief.

Later Sunday, eight masked Jewish extremists attacked an army tractor in the northern West Bank near Kedumim, a settlement not slated for dismantlement. The attackers slashed the tractor's tires, then set it on fire while a soldier was still in the vehicle, Israeli media reported. The soldier got out and pointed a gun at the attackers who escaped.

Trouble around Kedumim continued sporadically during the day. At one point, settlers poured oil and nails on a road junction. Four policemen and two civilians suffered injuries, and two were arrested, the military said.

In Gaza, the army said a soldier at an army base was lightly wounded by gunfire, the first Israeli casualty from Palestinian fire since the withdrawal began. Palestinian militants generally have held their fire during the pullout, but have occasionally fired rockets, mortar shells or automatic weapons.




| | |
| --- | --- |
| | |
| Japanese PM launches general election campaign | |

| | |
| --- | --- |
| | |
| Katrina slams US Gulf Coast, oil rigs adrift | |

| | |
| --- | --- |
| | |
| Japan's 6 parties square off in TV debate | |
Today's Top News
Top World News

President Hu Jintao: Gender equality crucial




Special grants offered to poor students




EU takes steps to unblock China textiles




Farmers sue county for illegal land use




Search for 123 trapped miners suspended




Hurricane Katrina rocks New Orleans