Income gap critical by 2010, experts warn
By Fu Jing (China Daily)
Updated: 2005-08-22 05:58
China's growing income gap is likely to trigger social instability after 2010 if the government finds no effective solutions to end the disparity.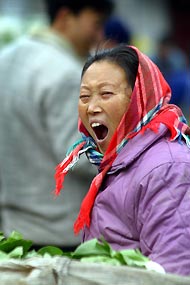 A woman yawns while selling vegetables at a market in Nanjing on January 12, 2005. [newsphoto]

An expert team at the Ministry of Labour and Social Security recently delivered the warning in a newly designed system detailing the populous country's statistics for income distribution.

Calling upon the government to keep alert over growing income disparities, the team found that the income gap in China has been expanding since 2003, despite some measures in place to increase income among those in poverty.

The team, headed by Su Hainan, president of the ministry's Income Research Institute, has used "blue-, green-, yellow- and red-lights" to predict income disparity trends. The yellow light warns the government to be alert and the red one means the disparity is totally unacceptable.

"Income disparity in China is in the yellow-light area now," the team warned. "We are going to hit the red-light scenario after 2010 if there are no effective solutions in the next few years.

Su's team found little reason to be optimistic about bridging the urban-rural income gap. Incomes in cities are growing at 8-9 per cent annually, while the rate in rural regions has averaged a year-on-year growth of 4-5 per cent.





| | |
| --- | --- |
| | |
| Chimpanzee suffers from smoking addiction | |

| | |
| --- | --- |
| | |
| The tide is high but they're holding on | |

| | |
| --- | --- |
| | |
| China, Russia military drills stage landing | |
Today's Top News
Top China News

EU, China begin talks on textile row




Joint forces storm beaches at climax of drills




Taiwan students on mainland given level fees




Japan, China to jointly develop 4G mobile




China says market to decide yuan's value




CCTV sends record invitations for festival