Spain holds state funeral for 17 soldiers killed in Afghanistan
(AP)
Updated: 2005-08-20 19:07
King Juan Carlos and other members of Spain's royal family led mourners at a state funeral Saturday for 17 Spanish soldiers killed in a helicopter crash in Afghanistan, AP reported.
Prime Minister Jose Luis Rodriguez Zapatero, members of his Cabinet and other high-ranking politicians attended the service at the Spanish army's headquarters in Madrid.
Queen Sofia hugged relatives of the dead soldiers. Some were so overcome by grief they had to leave parts of the ceremony.
A poignant moment came when the king assisted soldier Susana Perez Torres in laying a medal on the coffin of her husband, Sgt. Alfredo Francisco Joga.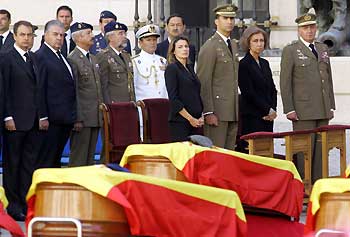 Spain's Prime Minister Jose Luis Rodriguez Zapatero (L), Princess Letizia (C), Crown Prince Felipe (3rd R), Spain's Queen Sofia (2nd R) and Spain's King Juan Carlos (R) pay their last respects during a state funeral for peacekeepers at Madrid's army headquarters August 20, 2005. Spain's royal family and Prime Minister joined the relatives of 17 Spanish peacekeepers who were killed in a helicopter crash in Afghanistan on Tuesday at the state funeral. The helicopter crashed during an exercise near Herat city in the west of the country. [Reuters]

Representatives of the United States, Britain, France and NATO were present. Spanish state television TVE1 read out condolences sent to the Spanish government by U.S. President George W. Bush.

The crash on Tuesday killed 17 Spanish troops, NATO's largest single loss of life in Afghanistan.

A second Spanish helicopter flying alongside at the time of the accident was forced to make an emergency landing, injuring five soldiers on board.

The government declared two days of national mourning after the bodies arrived back in Spain in flag-draped coffins on Thursday evening. Flags on public buildings and on naval warships were ordered lowered to half-staff on Friday.

The Spanish soldiers were part of the NATO-led security force preparing for next month's parliamentary elections in Afghanistan.

Investigators have so far found no evidence that the helicopter was downed by hostile fire, favoring instead the theory that a strong gust of wind may have forced it down while flying at high speed close to the ground.

In May 2003, 62 Spanish peacekeepers returning home from Afghanistan died when their Russian-built YAK-42 plane crashed in northwest Turkey. A political row erupted when mistakes were made in identifying many of the bodies and some families were given the wrong remains.

The families of soldiers killed in Tuesday's crash said they were satisfied with identification procedures.

Spain has about 800 troops taking part in the NATO operation in Afghanistan. These were the first Spanish deaths inside Afghanistan during the mission.




| | |
| --- | --- |
| | |
| Japanese PM launches general election campaign | |

| | |
| --- | --- |
| | |
| Katrina slams US Gulf Coast, oil rigs adrift | |

| | |
| --- | --- |
| | |
| Japan's 6 parties square off in TV debate | |
Today's Top News
Top World News

President Hu Jintao: Gender equality crucial




Special grants offered to poor students




EU takes steps to unblock China textiles




Farmers sue county for illegal land use




Search for 123 trapped miners suspended




Hurricane Katrina rocks New Orleans