Almost 90 arrested after Bangladesh bombings
(AFP)
Updated: 2005-08-19 09:36
Bangladesh police said they have arrested nearly 90 people in connection with a nationwide wave of near-simultaneous bombings linked to a banned group of Muslim extremists, reported AFP.
Around 350 small home-made bombs exploded on Wednesday within an hour of each other in almost every town or district across the country, killing two people and injuring more than 100.
All suspects were due to be sent to Dhaka for further interrogation, a security official in the world's third-largest Muslim-majority nation told AFP on condition of anonymity.
The home ministry has said leaflets from the outlawed Jamayetul Mujahideen were found at all of the bomb sites, calling for the installation of Islamic law.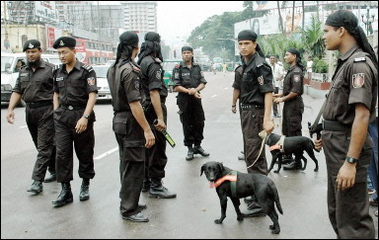 Bangladeshi 'Rapid Action Battalion'(RAB) forces guard a street in Dhaka. Bangladesh security forces arrested almost 90 people in connection with a wave of simultaneous bombings that police said were linked to a banned group of Muslim extremists.[AFP]

Some leaflets also warned Britain and the United States to "get out of Muslim countries," police said. Many of the improvised bombs were placed in front of government offices, courts, hotels, and bus and railway stations.

"We launched a nationwide crackdown and so far we have arrested 87 people," Abdul Kaiyum, Bangladesh's Inspector General of Police, told AFP. "Our forces are everywhere. We are on the highest alert."

One detained suspect admitted being the local leader of Jamayetul Mujahideen, which was banned in February for alleged links to a series of bombings of religious shrines and other targets, a police official said.

Abdur Rahim, superintendent of police in Satkhira district, said two people there had been detained over five attacks and one had confessed to membership of the group and to carrying out a bombing.

"We are still questioning both men to get an idea about this organisation," Rahim said.

No group has formally claimed responsibility for the attacks, which Prime Minister Khaleda Zia has described as the work of "cowardly" terrorists designed to cause panic.

She will cut short a visit to China and return Friday evening instead of Sunday as scheduled, her political secretary Haris Chowdhury said.

In the capital, hundreds of people formed human chains Thursday and took to the streets in protest against the attacks.

Security was tightened at all key installations including the diplomatic area, said Shahidul Islam, deputy commissioner of detectives.

The Islamist-allied coalition government describes Bangladesh as a moderate Muslim nation and has repeatedly rejected any suggestion that there could be a problem with Islamic extremists.

India, which in the past has expressed concern over a rise in Islamic extremism in Bangladesh, urged the authorities to catch those responsible.

"We have conveyed our serious concern and strong condemnation over the numerous and widespread explosions to the high commissioner of Bangladesh in New Delhi," the foreign ministry said Thursday.

"We urged the government of Bangladesh to identify the perpetrators of these terrorist acts and offered any kind of assistance," it added.

US State Department spokesman Sean McCormack condemned the bombings as "terrorism". United Nations Secretary General Kofi Annan called for "calm and restraint in the face of these brazen and cowardly acts."

The European Union also denounced the bombings and urged the Bangladeshi government to "act decisively" against the perpetrators.

Security problems hurt Bangladesh earlier in the year when a February summit of South Asian nations in Dhaka was postponed. India had pulled out following a grenade attack on an opposition party rally that killed five people.

"Whoever did this made a big statement. It shows how fragile the security situation is here," security expert Sakhawat Hossain, a former army brigadier general, told AFP.

"In terms of security, it shows that we are now the weakest country in South Asia, even weaker than Nepal," he said.




| | |
| --- | --- |
| | |
| Japanese PM launches general election campaign | |

| | |
| --- | --- |
| | |
| Katrina slams US Gulf Coast, oil rigs adrift | |

| | |
| --- | --- |
| | |
| Japan's 6 parties square off in TV debate | |
Today's Top News
Top World News

President Hu Jintao: Gender equality crucial




Special grants offered to poor students




EU takes steps to unblock China textiles




Farmers sue county for illegal land use




Search for 123 trapped miners suspended




Hurricane Katrina rocks New Orleans