No mad scurry for HK Mouseland tickets
(Shanghai Daily)
Updated: 2005-08-18 09:26
There are still plenty of tickets left for opening day at Hong Kong's Disneyland even though the event is only a month away.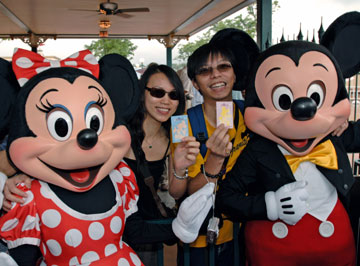 Hong Kong Disneyland commenced a month of "Rehearsal Days" on August 16, 2005, leading up to the theme park's grand opening on September 12. Rehearsal Days are a Disney tradition at its parks and resorts around the world and present an opportunity for Cast Members (Disney parlance for employees) to hone their roles to create the most magical guest experiences when the Vacation Kingdom officially opens. Specially invited guests enjoy the park during Rehearsal Days. [Reuters]


Whether shanghai residents just don't care much about the house that the mouse built, or whether Disney's stringent requirements affecting travel agency partners is to blame for the apparent tepid interest is still an open question.

Shanghai cyts Tours Corporation, one of two licensed Disney sales agents in the city, said yesterday it still has 50 vacancies left for a 150-person group tour that will visit the park on its September 12 debut.

Ctrip.com International Ltd, the other broker, declined to provide figures on advance sales.

Other major travel agencies in Shanghai, including Jin Jiang Travel, Shanghai International Travel Service and Spring International, said that only a dozen of people had signed up for the first-day tour, despite many more inquiries.

These agencies have not received formal notice of a business relationship with Disney, but they have gone ahead with tour bookings anyway.

Ye qiaoying, who works for Hong Kong Disneyland's public relations firm, Ogilvy PR Worldwide, said it was not known when, or even whether, a list of new partner dealers will be released.

Ye did say that first-day tickets have been sold out. So the only way to get in on the opening is to find a travel agent that still has tickets.

The current price of a three-to-four-day tour to Hong Kong, including a day in Disneyland, ranges from around 2,000 yuan (US$247) to 2,500 yuan.

That's about 1,000 yuan higher than the previous price without a Disneyland visit. Disneyland entrance tickets alone range from 180 yuan to 365 yuan.

"The increase, in addition to the park ticket, results from the increased price of hotels and airline tickets due to media hype," he said.




| | |
| --- | --- |
| | |
| MTV to air trip by Jolie to Africa | |

| | |
| --- | --- |
| | |
| Wild orgies leave the Great Wall in mess, and tears | |

| | |
| --- | --- |
| | |
| Zhou Xun parts with agent company | |
Today's Top News
Top Life News

Singapore: China-India ties to anchor new Asia century




China, Russia start joint military exercises




US, China said close to broad textile deal




Foreign banks to buy Guangdong bank shares




Mainland scrambles to help Taiwan airlines




US in touch with N. Korea ahead of nuke talks